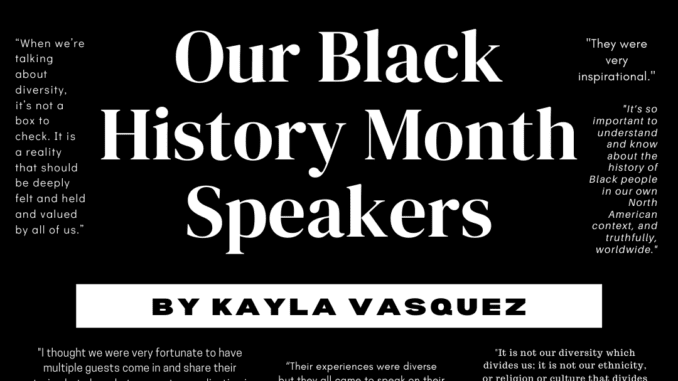 By Kayla Vasquez
This Black History month at STA, we immersed ourselves in the stories and voices of Black Canadians. We listened to their struggles with discrimination and racial intolerance. We observed how they overcame adversity to succeed.

Below are the speakers STA hosted this past month, as well as summaries of their messages and stories.

Speaker 1: Dr. Mark Davis

Dr. Mark Davis shared the legacies of many historical Black Canadians (such as Charles Drew, Elijah McCoy, and Mary Ann Shadd). Upon moving to Canada as a teenager, Davis faced struggles in finding motivation in school, adapting to life in a new country, and in addressing family issues. However, with encouragement from his parents and a dedicated history teacher, he overcame his problems and achieved success in his academics, leading him to a career in medicine.

Speaker 2: Chef of The Green Eatery, Melani Bastians

Chef Melani Bastians told her story by describing her experiences and difficulties with her Jamaican heritage. She highlighted moments of racial intolerance from customers in her restaurant, as well as facing stereotypes and questioning from others. Despite these challenges, Chef Melani has a mission to "never let anyone go hungry" and continues to spread love and a sense of community through her cooking. You can check out her Instagram, @chefmelanibastians.

Speaker 3: Founder of Go Beyond the Game, Shaka Fonderson

STA's last presentation was delivered by former athlete and founder of Go Beyond the Game, Shaka Fonderson. He recounted his journey by talking about the difficulties of discrimination, the pressures of school, and his obstacles as a football player. He revealed that his trust in God and strengthening his faith lead him to a turning point in his life. New opportunities and a new calling allowed him to pursue his sports training organization, dedicated to guiding young athletes.

We reached out to Fonderson after his virtual visit to STA, and we asked him about the significance of Black History Month. Fonderson says, "To me, the importance of Black History Month is to help strengthen our community. It's so important to understand and know about the history of Black people in our own North American context, and truthfully, worldwide."

"However, knowing and understanding our history is only half the battle. History is bound to repeat itself unless we implement the lessons that we've learned from understanding it. How can we, as people, move forward and strengthen our relationships? How can we elevate each other? Black History Month is about asking those questions and making moves towards a future that shines brightly on us all," he tells us. Fonderson also reminded us that students can get in touch by reaching out to his organization's Instagram account, @beyond_thegame. "Our DM's are always open! We love to talk to people about life, sports, and everything in between!"
These presentations were hosted and shared with us by STA's chaplain, Ms. R, over her YouTube channel, @msrchaplain.

"I find I learn what it means to be a better human and more fully human when I allow others to share their stories with me, stories that are vastly different from mine," says Ms. R.

"This month reminds me that we, white people, have a lot of catching up to do in listening, appreciating, and integrating Black history, not just in one month but in all our curriculum from September to June, from JK to grade twelve," she tells us.

Ms. R also highlights the importance of Black history in our society and in religion by saying, "the more inclusive and diverse our society and Church can be, the more life-giving it will be, the more authentic it will be." She explains that "Black people are the face of Christ. Their stories and histories are sacred. Let's honor them not only in February but all year long."

Our Raider Weekly staff also shared some key takeaways from the speakers this past month.

"We were very fortunate to have multiple guests come in and share their stories," says Diane Choi. "What comes to realization is the amount of voices that still go unheard," she shares.

"The speakers gave us a little peek into their lives and made many of us really think about what's going on in the world," says Jas Sy.

Jessica Hales found the speakers inspirational, highlighting how Shaka Fonderson said that "it matters not how our lives start, but where we end up and where we go."
On behalf of all Raiders, thank you to Dr. Davis, Chef Melani Bastians, and Shaka Fonderson for sharing their experiences this Black History Month!