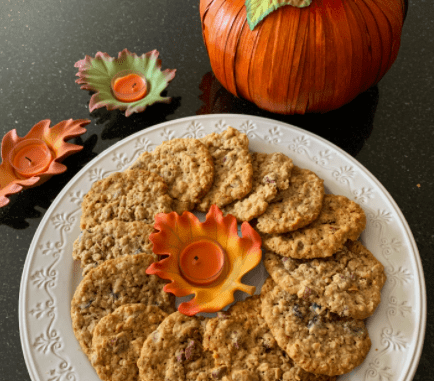 Who doesn't love a good cookie? With three kinds of oats, cinnamon, toasted pecans, milk chocolate chips, and raisins, you can't go wrong.
My aunt originally showed me this recipe from Stella Parks baking book, BraveTart: Iconic American Desserts. This past week, I finally tried the recipe out for myself, and they came out delicious! I've never thought to put cinnamon in oatmeal cookies before but wow did it ever make an awesome difference in the flavour. Also, the steel cut oats create a subtle nutty taste and a bit of a crunch.
I like to make my cookies relatively big, so the recipe made around 25 cookies, give or take as a few broke in the process of removing them from the cookie sheet and onto the cooling rack. So far, they are a family favourite, and the 20 something cookies have now been whittled down to a remaining 10 in the span of 3 days. My mum and I like chocolate chips in our oatmeal cookies, although my father likes raisins, so as you will see below, I split the dough in two and made both!
My rating for Parks Triple Oatmeal Cookies is 4.5 stars.
With the holidays rolling around the corner, these cookies are great with a hot cup of hot chocolate, or tea, while surrounding yourself by the aromas of a Bath and Body Works Christmas candle. And I'll tell you a little secret, I even had a raisin one for breakfast once or twice… no complaints.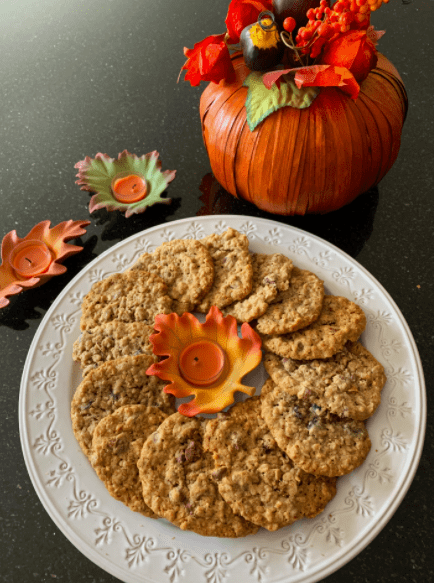 Triple Oatmeal Cookies
2/3 cup all-purpose flour
3/4 cup oat flour
1 2/3 cups old-fashioned rolled oats (not quick-cooking or instant)
1/4 cup steel-cut or Irish oats
1 1/4 cups pecan pieces, toasted
1/2 cup milk chocolate chips
1/2 cup raisins or cranberries
2 sticks unsalted butter, soft but cool
2/3 cup packed light brown sugar
1/2 cup white sugar
1 1/2 teaspoons Diamond Crystal kosher salt (half as much if iodized)
1 1/4 teaspoons baking soda
1/2 teaspoon ground cinnamon
1 tablespoon vanilla extract
1 large egg, straight from the fridge
Preheat the oven to 350 degrees. When heated, place pecans on a cookie sheet lined with parchment paper, and toast them in the oven for 7-8 minutes, or until aromatic.
Sift flour into a medium bowl. Then add oat flour, rolled oats, steel-cut oats, and toasted nuts.
In a stand mixer, using the paddle attachment, combine butter, brown sugar, white sugar, salt, baking soda, cinnamon, and vanilla. Begin on low speed to mix, then increase to medium and beat for 30 seconds. Crack the egg into the dough and beat until smooth. Lowering the speed back to low, slowly mix dry ingredients into the mixer. This should form a stiff dough.
Separate dough into 2 sections and set one side. With one half of the dough still in the mixer, poor in 1/2 cups of chocolate chips… or more… into the mixture and beat. Later repeat with the remaining half of the dough, but poor in 1/2 cups raisins. I would suggest baking the chocolate chip half first, as once that dough is out of the mixer and in the oven, you can put the second half in the mixer and add in the raisins… of course only if you want two types of cookie.
Arrange 1 ½ tablespoon sized cookie dough balls 2 inches apart onto a parchment lined cookie sheet. Flatten them into discs, then bake for about 12 minutes, or until they are golden brown around the edges and pale and puffy in the centre. Leave to cool for 5 minutes, then transfer to a cooling rack.
Email recipes you want me to try, and review at faith.hamilton.201@my.aquinas.me
Adapted from the original book as found in BraveTart: Iconic American Desserts, written by Stella Parks, page 56, published August 15, 2017, W. W. Norton & Company New York. N.Y. 10110, www.norton.com