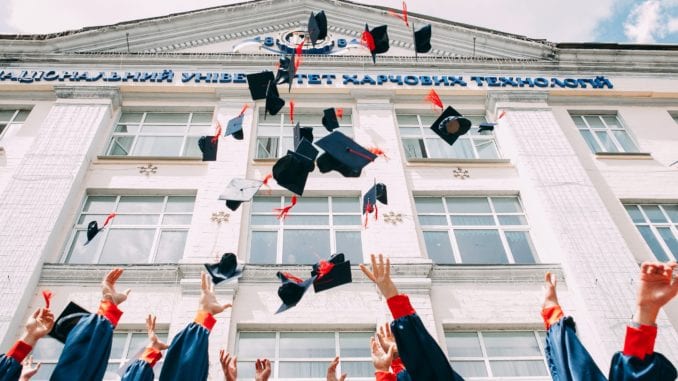 By Emma Pascu and Ethan Carley
Promposals, letters of acceptance, dress hunting and limousines. Grad gowns, senior trips and scholarships. The spring of senior year is supposed to be the pinnacle of high school. A simple walk through the halls would reveal the sweltering excitement amongst seniors as they inch their way towards the finish line. But this year, the story looks tremendously different. As the coronavirus continues to consume every aspect of our world, the future of senior year has been completely altered. And unfortunately, seniors are left feeling ripped-off with nothing to ask except – what's next? 

The end of senior year is highly uncertain. Will prom be cancelled? Grad postponed? Mr. Perusin told us he couldn't lay out any definitive plans, but he did assure us that seniors would be honoured in a special way and that the school is in the process of deliberating imaginative ideas. As far as the probability of prom taking place before the end of this school year, he told us he knows large gatherings won't be possible for a while. And if you have been keeping up with the news, you'll know that gatherings, even on the scale of prom, are still likely months away.

Mr. Perusin revealed to us that the graduation committee continues to hold meetings. They have also considered honoring the graduates by posting their pictures on the cafeteria windows in front of the school, or coming up with a video to share with the school community. However, Mr. Perusin acknowledges there may be some privacy and logistical issues to these ideas. 

Many of STA's seniors expressed their disappointment for the possible cancellation of significant events that would bring some of their greatest memories, while marking the end of their highschool years. "Thoughts of prom and university are far too heavy to embark on, far too frustrating to ponder," says senior Julia Modestino. "The worst part is letting go of the promises of experience, the whispers of all that this year would be, and the lasting memories that grade twelve was supposed to grant us," she adds.

A lot of seniors remarked that they had never expected these devastating cancellations following the announcement of the school closures after March break. "When March Break was first extended, I never imagined prom would be cancelled. It felt like an untouchable event! Even more than that though, I'm shattered that we won't have graduation in June. I genuinely loved high school and it's going to be even harder to leave it behind without the closure that grad brings," expressed Sierra Vaillancourt, who is also in her final months of highschool. Many acknowledged that even though they were upset about the closures and cancellations, there was nothing much they could do to help the situation. "I was kind of upset at first, but I know this is kind of beyond what any of us can do," remarks senior Daniel Dickson.

Student Council President Aryana Zarandi expressed her gratitude for her existing highschool memories, and insisted that she does not have any regrets going into university. "I would have loved to attend my own prom and get the 'full' highschool experience but knowing that we are living through unprecedented times leaves me thankful and grateful for all of the experiences and memories I have already had. Looking back, I do not have any regrets or feel that I am missing any milestone experiences since I personally feel that I have made the most of my highschool experience," she noted.

A few seniors told Raider Weekly that they believed there is a slight overreaction to the situation. "Yes, it is devastating, unfair, and people can certainly complain about it, but I don't think we're in a position to be upset over missing some parties when people are dying by the hundreds, and medical workers are going through psychologically traumatic experiences for us," states Jessica Lee.

Even though there were many grey expressions of discontent regarding the potential cancellations, most of the Grade Twelve students we spoke to gave their best attempt at remaining positive during these unprecedented times. "Even though I'm sad about the less celebratory end to my high school career, I know that doing this might allow me to transition to university in September as planned and keep more people safe from corona[virus], which is the goal," Libby Schade says.

One senior enlightened us on the deeply interesting philosophy of "stoicism" when we asked about his thoughts. "Basically it is the philosophy that encourages the endurance of hardship without display of feelings or complaint. It says that if there is nothing we can do about a situation, we should not let it affect us, and we should only be affected by the aspects we can control," Bogdan Basabara explains. His message was that "in order to keep our spirits high during these unusual times, we must remember that in the grand scheme of our lives, this is just a small chapter."

For the first time in the history of the International Baccalaureate program, May exams have been called off. The final marks will now be determined solely by their course work and Internal Assessments, rather than the final exams.

The cancellation of IB exams left many students in the program feeling strange. "In a few days, IB exam season would have started, which is something I've been working towards for like, three years now," explains IB student Gabbie Cruz. "My whole IB experience has been building up to these exams and now that they're over, it's been weird adjusting to the fact that I don't really have a goal," she shares.

As far as university acceptances, many seniors have already made a decision on where they will be going, but some are worried whether they will be able make it to campus in the fall. Sierra, who is planning on attending McMaster's life sciences program, thinks "starting university online would be incredibly difficult." Daniel, who will be attending Queen's for computing, says he feels it will be "weird" having the first semester online if that's what it comes to, but it "will just make it even more special if we actually get to go."

Libby, who will be moving out of the province for university, told us how this semester was supposed to be her "last chance to say goodbye to everyone and everything here." Mira Haddad shared a similar sentiment. "I think what makes it worse is that we left for March break thinking we'd be back at school soon, so we never got to say goodbye to everyone."

On April 26, the Minister of Education announced that all schools will remain closed until at least May 31, 2020. While the STA community won't be united for some time, the entire administration is working hard to find creative ways of honouring the graduating Raiders, and to ensure they conclude this chapter of their lives in the most special way possible. That being said, the STA Admin Team is currently open to any ideas students may have regarding possible ways to preserve the highly anticipated epilogue to their highschool years. Hopefully the seniors will get their storybook ending!