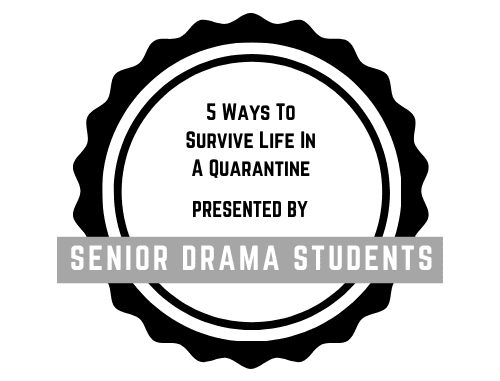 During each semester, the STA community has the opportunity to see two theatre performances: one from Theatre Aquinas, as well as a production from the Grade 12 class for their final culminating. Due to COVID-19 restrictions, there cannot be traditional performances this year, which has brought forth sadness to the cast, crew, as well as teachers who help produce these plays. While Theatre Aquinas has not decided how they will combat this deterrent, the Grade 12 class was forced to figure this out, as their semester-end-performance is a large part of their final mark. While it might seem difficult to direct a socially distanced play, the STA seniors have figured out how to do it and are excited to share it with the school community.
"10 Ways To Survive Life In A Quarantine" by Don Zolidis is a one-act play about…well…how to survive quarantine! This show was made to be performed over Zoom and will premier on Youtube Premier at a later date. As a Senior drama student, it would have been fun to produce a "proper" play for the STA community but this is a great alternative! It was a challenge to get started due to being distanced from half the cast, not having access to certain props or lighting, but once we got going, it went great. Meghan Pask, one of two very hard-working directors, says that "this year has been a difficult time and a major learning experience for everyone. As directors, we had to adapt, overcome challenges, and come up with solutions to make this production happen." Completing this project was very satisfying, to see all of our hard work come together and to see how we could adapt to our undesirable situation.
Doing things that bring you joy is very important for your mental health and for many STA students, being part of Theatre Aquinas brings that joy. The absence of a "normal" show brings sadness, understandably so. Every student looks forward to their senior year, the pinnacle of their high school career, closing this chapter with a bang and starting a new one, and leaving high school as only a vivid memory. For students invested in theatre, the final show of highschool is the cherry on top, and while it will be memorable, it will not be what everyone wanted: a semester-long production process, leading up to a 4 or 5 show run in front of friends and family. Theatre Aquinas producing a show will bring comfort to those involved and will hopefully ease lingering stress for everyone. Theatre often serves as an escape from reality for those taking part in it as well as those watching it, and we definitely need more of that now than ever before.
Be sure to follow @quarantine_survivalguide on Instagram for updates on the show!