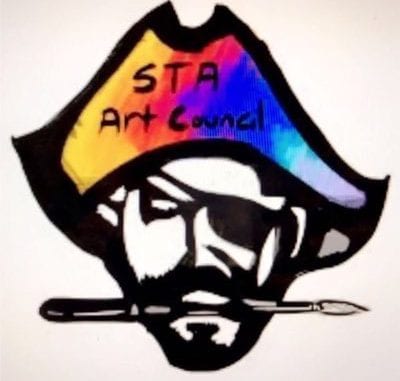 The second annual Arts Banquet, run by STArt council, was a celebration dedicated to all the hardworking artists in the STA community.
The two MCs, Ethan Zuckhan and Victoria Blazevic broke the ice before dinner with an amusing montage. The group was then serenaded by the two bands led by Ms Rowe and Mrs Verhoeven before a delicious buffet-style dinner. Afterwards, the paparazzi arrived for which many smiles and giggles ensued. The group was then called into the theatre to watch two of Jack Kukolic's original videos: A Home Away From Home and one dedicated to Peter And The Starcatcher.
Awards were handed out in art, music, drama and dance with at least one MVP in each category. To finish off the night, there was a dance performance by Jessica Lee, an inspirational monologue by Ethan Zuckhan and a Rock Band performance written by two STA students and accompanied by Mr T on the guitar.
Even though we've lost some of the seniors including Abby Green, Victoria Blazevic, Jea Montero, Ellie Glavota and Ethan Zuckhan, Theatre Aquinas lies in good hands especially in Samantha Cox' who played the titular role in the Spring Play. If the success of this past year is any indication of the future, then the Arts Program is just getting started.