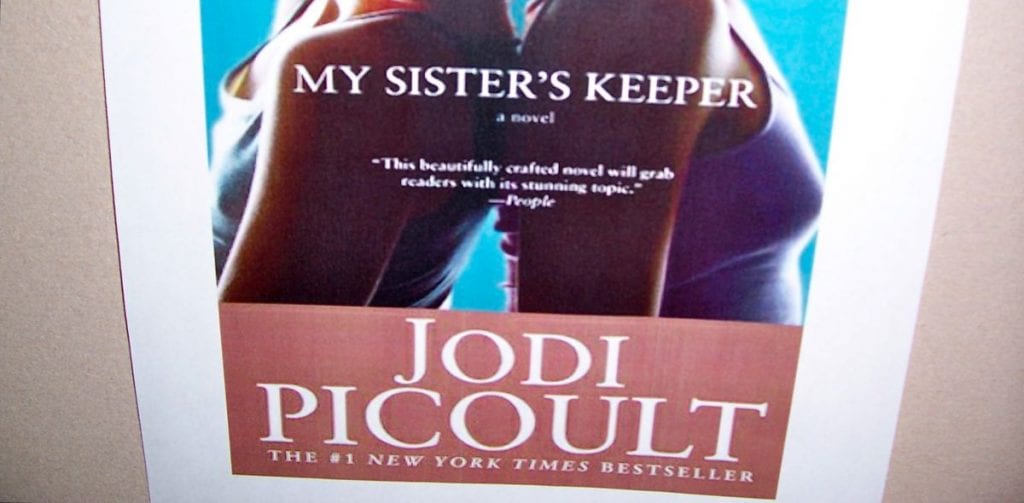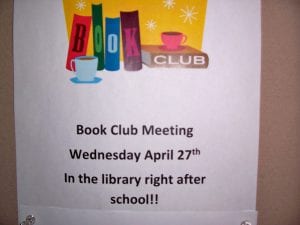 On Wednesday April 27, the tiny but strong book club met in the library after school to enjoy snacks as well as discuss their latest find: My Sister's Keeper by Jodi Picoult. Few members read the novel, but they did enjoy an interesting discussion about topics and themes related to the novel and in connection with other books they had read.
Undeniably, My Sister's Keeper is a sad book. It was published in 2004. Ms. Picoult managed to tell a harrowing tale of one girl's quest as she sues her parents for medical emancipation through the very different perspectives of all the characters in the novel.
My Sister's Keeper is about the Fitzgerald family living in a small town on Rhode Island, and how their lives have been shaped by the crippling acute promyelocytic leukemia that the eldest daughter, Kate, has lived with for almost her entire life.
Anna, the younger daughter, was conceived in order to be a donor of organs, blood and bone marrow to keep her older sister alive. But after Anna's thirteenth birthday, she begins to question her role in the family. She decides that she wants to have the ability to stop being a donor for Kate, especially because her parents are pushing her to go through with a risky kidney donation.
It is this decision which leads to Anna hiring a lawyer named Campbell Alexander, who helps her sue her parents for medical emancipation.
The views of Anna, her troubled brother Jesse, Anna's mother and father, Julia Romano (a guardian ad litem who was appointed by the court to determine what would be the best course of action for Anna), and Campbell Alexander all had their time in the spotlight throughout the book to reveal a group of interesting characters, each with their own unique stories to tell.
The voice of Kate Fitzgerald is only present within the last chapter of the novel, in which she tells the reader how everyone turned out in the end.
My Sister's Keeper is definitely not a story about how ordinary people live their daily lives. Thousands of families across the globe do not have to go through enduring the severe illness of one child, and forcing the other to donate body parts to keep their sibling alive. And yet, Ms. Picoult took this fairly rare experience, wove the theme of family throughout it, and made it into a story everyone could relate to in some way or another.
Through a combination of switching perspectives and flashbacks to reveal why characters have specific ways of looking at the world, Ms. Picoult helped book club members discuss family dynamics and ethical elements surrounding the novel. It was a story that brilliantly highlighted the ups and downs of childhood, growing up, and love, and as one character famously stated: "You don't love someone because they're perfect. You love them in spite of the fact that they're not."
The next book that the book club shall be diving into is The Guernsey Literary and Potato Peel Pie Society by Mary Ann Shaffer and Annie Barrows.