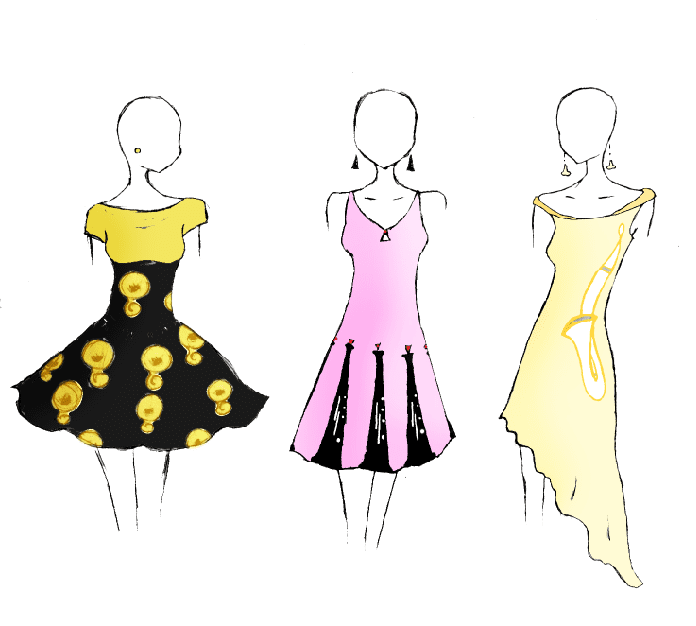 The search for the perfect Prom gown has been a timeless quest that thousands of teenage girls have embarked on each year at around this time.  And with the exciting event just around the corner on June 3rd, dress shopping for the lady Raiders of STA is definitely in full swing.
This year, long gowns are in fashion, but it wasn't always this way. English teacher Ms. Power has been a chaperone to approximately ten or eleven Proms, and she mentioned that the styles change constantly. Some years the dresses are shorter, whereas for others, dresses are lengthy enough to reach the ground.
To take a look back at past Proms, and understand how Prom has transformed, newspaper editors and English teachers Ms. Power and Mrs. Thorpe shared some memories of their own dresses.
While she was a student in high school, Ms. Power went to Prom but there was also another dinner/dance party for graduates. Ms. Power's Prom dress was a deep purple colour, had a high scoop neck, and was sleeveless. Her dress for the dinner/dance party was green, and both were sewn by her mother. Ms. Power also added "I hate shopping!" which allowed her mother's brilliant sewing skills to come in handy.
English teacher Mrs. Thorpe mentioned that when she was in high school, Prom was not in existence but formal and semi formal dances were. Her dress for one of these dances was a creamy yellow colour with a large-shoulder look that she joked was cute then but not now.
Concerning how Prom has changed, Mrs. Thorpe believes that the dresses girls wear to Prom are definitely more mature than when she was in high school, but she does not think that is necessarily a good thing. She commented that many dresses resemble a red carpet look that is beautiful, but better for the Oscars than for a high school Prom.  
Ms. Power added she believes Prom dress shopping is more competitive now compared to when she was in high school. She has a point, as a growing trend has been for girls to post pictures of their dresses on Facebook or other social media sites to ensure their classmates do not purchase the same one.
But Ms. Power also said that she wouldn't have been bothered if someone had come to her Prom wearing the same dress she was. She also added that when she was shopping for a Prom dress, staff at a store she went into wouldn't allow her to buy a certain dress because they had already sold the same one to another student at her school.
The search for the perfect dress certainly does not come with a navigation map. When asked what she thought made the perfect Prom dress, Grade 12 student Anna Quijano responded that she thinks the perfect Prom dress should "display the person's personality." She also mentioned that a girl should feel comfortable in her dress, and joked that dresses should definitely have pockets for added convenience.
Senior students Clare Rayment and Sara Pilon agreed with Miss Quijano in that Prom dresses should show the interests of the wearer, and Miss Rayment added that she thinks a mint green colour would look very lovely for a Prom dress. Senior student Claire O'Connor commented that the perfect Prom dress is "… different for everyone and it is simply what you feel beautiful in!"
When asked what made the perfect Prom dress, Mrs. Thorpe said she thought the perfect Prom dress was "both classy and comfortable," and something that suited the girl who was wearing it, as well as reflected her personality. She also said that comfortable shoes are definitely a necessity. Ms. Power responded that she thinks a Prom dress is truly amazing if it makes the wearer feel dressed-up and fancy.