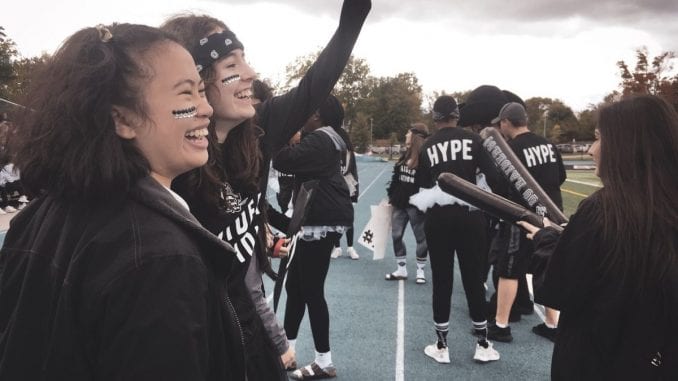 This past Friday, October 12th, we had a football game to honour the beloved Coach Luciani. He was a coach for both STA and Notre Dame hence why they play this game against us every year.
Chris Sagl commented:
"I first met Luciani through playing basketball for STA. He was an amazing mentor to all our players and brought faith to our team. He would come to support all of our games and run pasta night for us. Luciani would just always put others before him, always and would make sure that others were happy. Nothing meant more to him than that. He always used to say, "God's gift to us is life, your gift to God is what you do with it"
The day started off with a pep rally held by our new hype crew. Here is what some students had to say about the day:
"The games really made it enjoyable but we could have been more hyped" an anonymous source from Grade 9 revealed.  

"The music was so good and the hype crew was great at getting us hyped," said Daniella, Grade 9

Then came game time. Our Raider football team made us proud by playing really well for Luciani, for us and for themselves.

"I think the game was great because where I am from there aren't a lot of football games but this school has all these sports games happening!" – Enara, Grade 9

"Enjoyable but I wish there was pizza" – Cynthia, Grade 9

"The game was pretty good but kind of disappointing when we lost 13-14" – Anonymous, Grade 9

The match ended with a score of 13-14. A pretty great game. Good job boys!

Coach Luciani was a breath of fresh air, the heart of the sports teams, a guide to all and an angel we lost too soon.
#LiveLikeJoe