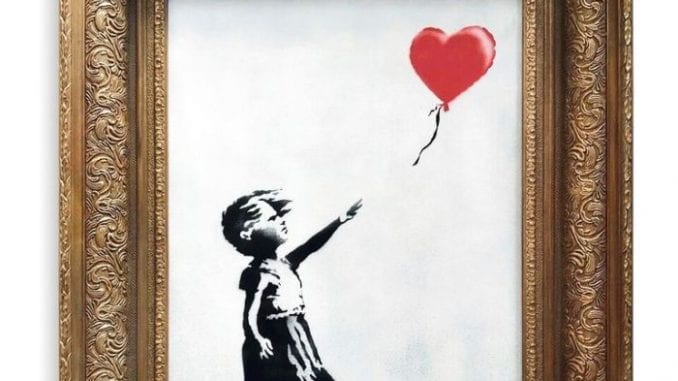 British artist, graffiti master and activist, Banksy has turned the world upside down. His acclaimed artwork, 'The Girl With the Red Balloon'– after being sold for $1.4 million at Sotheby's art dealership in London last week — self-shredded in the middle of the saleroom. Banksy, the mastermind behind this artistic escapade, built a secret shredder in case one of his pieces were ever put up for auction.

He uploaded a picture of the piece being destroyed with the caption: "Going, going, gone". The incident has brought immense attention not only to Banksy but to the cherished piece of art itself. Many people think he has changed the market for performance art. The symbolism behind the shredding has been viewed as the opportunity for integration of performance culture into the art world.

Banksy's inspiration behind the prank comes from the famous Picasso quote: " The urge to destroy is also a creative urge".

This is the first time performance art has driven up market value. As it is no longer one of the many printed versions of "The Girl with the Red Balloon", but now an irreplaceable Banksy performance piece. This bold act of sabotage or clever stunt has possibly added millions to the art's value and has also created a new trend for other artists to follow.

Steve Lazarides, the dealer credited with launching Banksy's market, said, "It may well be one of the first works to be worth more destroyed than it is whole. If I was the collector that paid the money, on the night I would have been very shocked. But looking back in hindsight right now, I think I'd keep that piece of work. Its value very well might have increased."

Since the incident, the stunt has caused people to edit various images of their own into the shredding frame. Companies such as McDonald's has posted a painting of potatoes being shredded into french fries by the frame. Other paintings of celebrities, street lights, and more are being destroyed by art-eating frames.
Banksy has influenced not only a new trend for companies to capitalize on, but also brought awareness that creation and destruction are interconnected, and both can be considered a form of art.