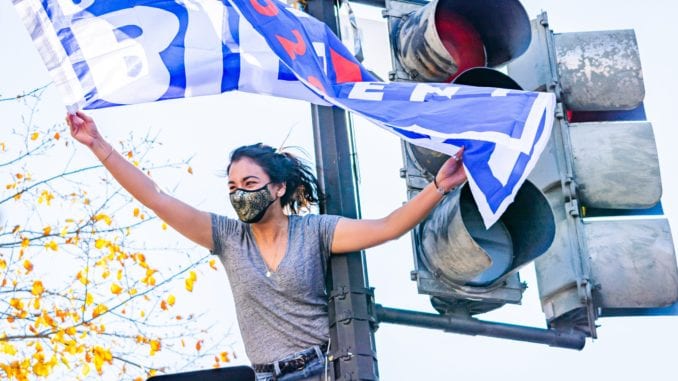 By Barrett Carley and Ethan Carley
After weeks of political turmoil, the Electoral College officially elected Joe Biden on Monday, December 14th as the 46th president of the United States.
It has been over a month since Americans headed to the polls and media outlets declared Biden as president-elect. Yet, Trump continues to tout his allegations that the election was rigged, and stolen from him. He and his administration have launched lawsuits in numerous states trying to delegitimize the election, however, these cases have been repeatedly overturned in court.
On January 20th, 2021, Biden will assume the office of president of the United States, alongside the vice-president-elect Kamala Harris, who will become the first female, first Black person, and the first person of Asian descent to become vice-president.
In any given year, America's leadership would vastly influence the state of our own country. However, in our current moment, with a deadly pandemic and fragile economy, the president of the United States may influence our country more than ever before.
In a year where Canadian youth have been outspoken about social injustice, the environment, and a multitude of other global and domestic issues, we went to them to hear what they thought of the incoming Biden-Harris administration and the closure of Trump's four-year-tenure.
"I'm happy! This is the result I was hoping for, and I'm excited to see how Joe Biden uses his position to fuel progress in America in the coming months and years," says grade eleven student Rachel Philipose on the outcome of the election.
"I'm more than overjoyed!" grade twelve student Mark Lee says. "I hated Trump with a passion, and I'm beyond happy that he is going to be out."
"I feel good that we now have a more moderate president, hopefully, Joe Biden will help calm recent tensions," grade ten student Christian Kalbfleisch says.
Grade eleven student Nathan O'Brien wasn't as joyful about the outcome. "I feel disappointed," he says. "If it wasn't for the pandemic, Trump would have most likely won the election," he adds. Nathan thinks that "many people underestimate how much Trump was able to achieve, such as huge strides in the economy and in the African-American community."
Throughout the election primaries, it was clear that younger voters favoured more progressive candidates like Bernie Sanders and Elizabeth Warren. While most students are glad that Trump will be leaving office in January, many of them would have preferred another democratic candidate.
"Biden was the better option over Trump, so I'm glad that Trump is out of office due to his racist remarks and goals. Though, I would rather have Bernie Sanders due to the social advantages that he would have ensured," grade ten student Lauren Faria tells us.
Grade twelve student Mirna Aziz believes Obama's foreign policies in the Middle East were "violent" and the idea that Biden "stood by Obama as he wrecked countries such as Iran and Iraq" makes her think his foreign policies will resemble those same policies. Mirna thinks "Bernie Sanders would've been a much better candidate as he remains transparent with America on what his foreign agenda would've been like."
Christian Kalbfleisch feels the opposite. He thinks "Joe Biden was the best choice for the Democratic Party" as Bernie Sanders "has driven away moderate Democrats." Christian adds that "Bernie Sanders' climate plan is completely unreasonable and impossible," and that "Biden has the best plan to tackle climate change."
Rachel Philipose is optimistic Biden will defy what many think of him. "A lot of people have criticized Biden for being a career politician and said he hasn't enacted much change in his 47 years in politics, so I hope he will prove them wrong," she says.
Nathan wouldn't have preferred another democratic candidate, as "Joe Biden has the most experience, which is especially important if you keep in mind that he was already a vice president."
Kamala Harris has made history as the first female, first Black person, and the first person of Asian descent to become vice-president-elect. Grade eleven student Shanessa Furtado says, "As a female of Indian descent, seeing someone who looks like me become the Vice President-elect is truly inspiring and gives me the confidence to pursue my dreams. I know as a person of colour I will face discrimination in my future, but Kamala Harris has shown me that I can overcome them and make a real difference."
Micole Mathew in grade ten says, "I think that it's important for America to celebrate this milestone as it shows a brighter, more diverse country filled with equal opportunities for all. It's important to celebrate this moment, but also, understand that having the first person of colour female Vice President is only a small step, and there is still so much left to do to ensure that America is a safe place for all." 
Young people have been the most critical of Kamala Harris's criminal justice record. Allegations that she is "tough on crime" have been with the term 'Top Cop' frequently used to describe her time as prosecutor and attorney general of California.
Grade ten student Elia Faria thinks her win is "a step in the right direction for representation," however "some of the things she did weren't the best." Elia thinks "she was really harsh on the system" and that "criminal justice should be rehabilitation to bring people back into the workforce."
While Nathan O'Brien "strongly disagrees" with Kamala Harris's record, he thinks "we shouldn't continuously bring her down for her actions in the past."
Students were also eager to share their opinions on Trump's unprecedented, but not unexpected reaction to an election loss.
Grade eleven student Nadine thinks "Trump is just a sore loser and he will do everything in his power to win or get himself ahead. Trump will even lie to the American people and make them turn their backs on to each other."
Micole Mathew believes that "Donald Trump's refusal to concede to Joe Biden is hysterical in a way. The ability to not let ego get in the way of making decisions and moving on was something I was hoping a president would do, although, I can't say I'm surprised he hasn't."
Nathan believes that Trump has the right to be skeptical of the election results, but he believes "Trump is blowing it out of proportion."
When we asked students what specific actions they would like to see the Biden-Harris administration take, there were many changes they hoped would be implemented.
Rachel Philipose hopes the new administration will make progress on "banning semi-automatic weapons, stricter gun laws, take the fight against climate change seriously, rejoin the Paris Accord, and finding a reasonable balance between enforcing quarantines to keep America safe from COVID while ensuring they don't lose jobs and livelihoods."
Mark Lee hopes the new administration works to "get COVID-19 under control because as long as COVID is ravaging the U.S population or people, Canada is not safe." He also hopes the new administration will take steps to fight systemic racism in the United States.
Nadine and Elia hope the new administration will reverse policies implemented by the Trump administration which they think are damaging, particularly to LGBTQ people. "I hope that conversion therapy camps are banned throughout the U.S," says Elia Faria. Nadine says "Trump's presidency has given LGBTQ [people] a harder life," by actions like allowing doctors to discriminate against LGBTQ people.
Nathan believes that effective climate action is needed after having a president who didn't believe in climate change. His main hope is that "they will be able to restore peace to America, because at the moment, America is divided, and they need to at least try to unite Americans."
Like many around the world, it's evident that most students are relieved to see Trump go. After what they consider a harmful Trump era, the Biden-Harris administration gives them hope that America's government will finally act on global issues that matter to them.