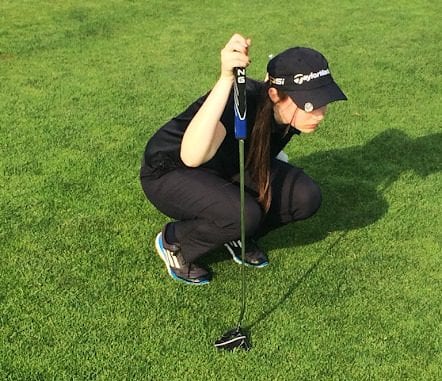 Alexandra Torjak is a grade nine student who made Raider history this month when she became the first-ever female golfer to join STA's golf team. Alexandra has already competed in two tournaments this season and has achieved great success. In her most recent tournament, Alexandra placed third in Halton, qualifying her for the Golden Horseshoe Athletic Conference tournament next week.
Raider Nation has been thrilled that Alexandra has become the first ever girl to join the team and is impressed by what she has accomplished already, so we decided to sit down with Alexandra and find out a bit more about her.

Q: How do you feel about being the first ever female golfer on STA's golf team?

A: I feel proud of myself because golf is a sport that may not appeal to most girls. Sometimes, I feel like I am a representative of all girls because I am the only female on the team.

Q: Are you surprised that you are the first ever female on the team?

A: Honestly, not really because golf isn't a popular sport among girls, so it's not uncommon for there not to be many on the team.

Q: How old were you when you started playing golf?

A:  I started playing golf when I was about seven years old.

Q: How did you get into it?

A: About eight years ago I attended a summer camp for golf and I really enjoyed playing. I  was good at the game so I pursued golf and got better and better at it.

Q: What is your favourite aspect of the game?

A:  I like that it's not only a physical game but also a mental game because you can't be a good golfer unless you have a good strategy and know how to react in the many situations you may face on the course.

Q: What is your average score?

A: I usually hit in the eighties.

Q: Have you played golf competitively before?

A: Yes, I used to play golf for about three years very competitively, but not so much anymore. Last year I didn't play at all because I was very pressured into practicing and it came to the point where I didn't enjoy golfing anymore because of how competitive it got.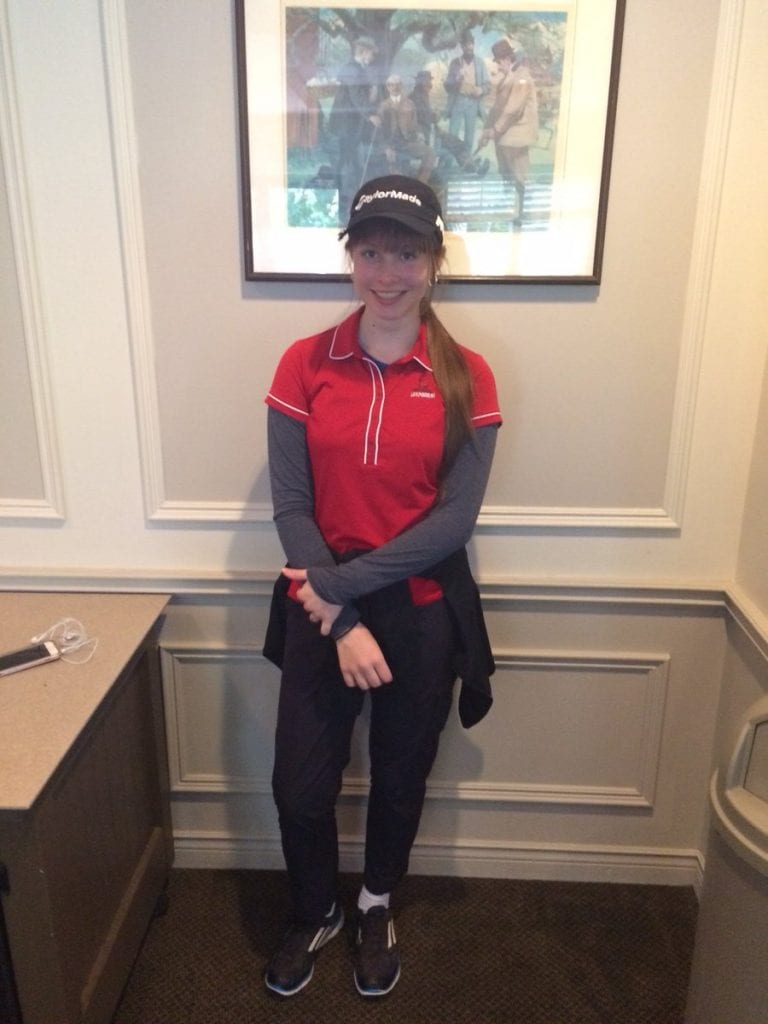 Q: What skills do you think are essential to play the game?

A: You need to have good mental strength because you are out on the course making decisions for five long hours, but you also need to have the physical stamina to endure the tough conditions of being on the course for long amounts of time when it is pouring rain or extremely hot.

Q: What are your strengths and weaknesses?

A: One of my strengths is that when I play I am independent and can make my own decisions on the course, also I have a pretty strong swing compared to other young female golfers.

Q: What do you think is more important — the physical aspect of playing the game or the mental aspect?

A:  Definitely the mental aspect of the game because as good of a swing you can have it really comes down to whether you are able to stay composed during the eighteen holes and make the best calls in whatever situation you are in.

Q: Do you get nervous when hitting?

A: When I am playing by myself I don't get nervous when hitting, but when I am in a tournament and a lot of people are watching I get really nervous.

Q: How often do you practice?

A: When I was playing competitively I practiced almost every day in the summer and in the winter I practiced in an indoor facility. But now since I'm not playing competitively, only on the school team, I only practice a few times a week.

Q: Do you have a professional golfer that you look up to?

A: I don't really look up to any professional golfers, but my favourite is Justin Rose.

Q: How do you feel about Brooke Henderson? Do you think she is setting an example for young female golfers?

A: I definitely like her and I know a lot of girls who are inspired by her and want to be like her.  She is a great inspiration, especially for young female golfers in Canada.
Q: What advice would you give to someone who has just started to play the game?

A: It's honestly harder than it looks and there is lots of practice and hours that you need to put into your game if you want to have a low score.

Q: What are your goals? Would you like to become a professional?

A: My goals would be to perhaps get a scholarship for golf and play in university. Though I wouldn't want to play professional golf because I am more interested in the arts and filmmaking.

Q: What do you like to do when you're away from the course?

A: When I'm not playing golf I'm usually drawing or painting, listening to music, watching movies or doing school work.

Q: What is something interesting about you?

A:  My family is from Poland so I can speak Polish and I am also an only child.

Q: How do you feel about being in Grade 9?

A: It's definitely a lot harder than elementary school. It's been a little bit hard for me because I'm a bit of an introvert and don't make friends easily. Since I'm in pre-IB there is a lot of homework and it can be difficult to juggle between golf practices and tournaments.