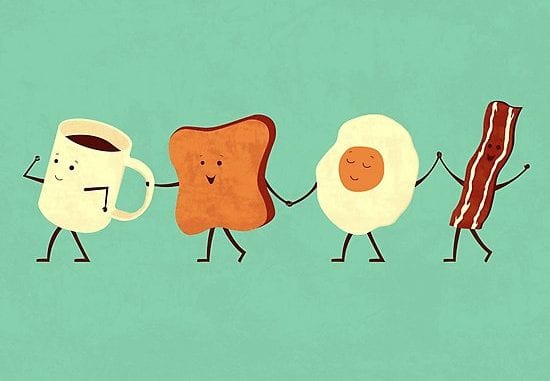 By Ana Simone Roshdi and Cynthia Corradi
Are you crazy busy in the morning? Do you not have time for the most important meal of the day? Did you know that St. Thomas Aquinas has a Breakfast Club?
Yes, you heard that right STA has the very helpful breakfast club, accessible and free of charge for all students!  You can drop by anytime between 7:30 am and 8:05 am every morning, at the cafeteria and enjoy a delicious breakfast! The breakfast Club starts on October 1st.
Moreover, on Tuesdays and Thursdays it's on the go. For those busy days, you'll be provided with  items such as: cereal, granola bars, fruit, yogurt, cheese and milk by student volunteers. In addition to the on-the-go items, on Mondays, Wednesdays and Fridays it's hot and fresh with assistance of teacher volunteers. You'll have a selection of toaster options such as bagels and english muffins. Don't forget the nutritious smoothies on Wednesdays!
There's something nutritious and delicious for anyone regardless of dietary needs. We're very fortunate to have this program at STA, so take advantage of it. The importance of breakfast cannot be overstated. This meal not only improves academic performance and increases your energy, but beyond schooling, it leads to a healthy start to your day and brings our school community closer together. So why skip breakfast when you can conveniently have it everyday at STA?  Hope to see you there!
If you are interested in volunteering at the Breakfast Club please see Ms.Marciel in workroom 2D for more information.