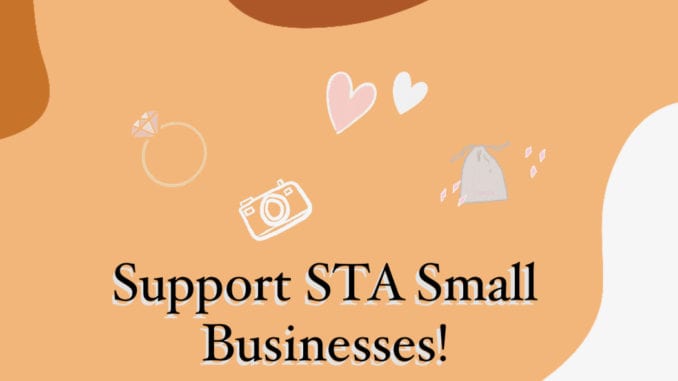 It is that time of year, and Christmas is on its way. Need to do some last minute shopping? Support your fellow schoolmates at St. Thomas Aquinas with their small businesses. Listed below are some products and services that have a range of different genres to choose from!
Brand: Papaya Pouches
Owner: Diane Choi, Gr.11
Social media/contact: @papayapouches on Instagram
Description: Need somewhere to store your earbuds/AirPods, hand sanitizers, pet treats, jewelry, money, business/ID cards, face masks etc? These lovely, hand-sewn, affordable pouches will be customized by YOU from a variety of fabrics, designs and sizes. Within the first month of launching, I was so grateful that I could donate to Sick Kids with the help of my fellow customers. I am a non-profit organization that takes $1 from every pouch made to donate to Sick Kids, so not only are you supporting a fellow STA student but also helping those in need. These can be perfect gifts, even to place a gift within a pouch to a loved one or even make it personalized to your liking. For now, the way to purchase your very own pouch is through messaging me on Instagram. I cannot wait to hear from you and I am looking forward to being able to make something special to make your day. Carry around all your personal belongings but make it cute! Currently we are having a sale so go check out the Instagram account for more info!
Brand: Eteriese
Owner: Emma Walton
Social media/contact: @eteriesejewelry on Instagram or eteriese.com
Description: When the pandemic lockdown started, Emma began designing and making jewelry as a creative outlet and as a way to keep busy while she could not visit her friends. She listed her pieces on Etsy for fun and soon noticed multiple orders being placed each day. The Eteriese brand is an edgy "street-style" jewelry brand targeting the 13 to 30-year-olds. Today Eteriese is sold through its own website (http://www.eteriese.com) alongside Etsy and through the Amazon-Handmade marketplaces. Eteriese also has a wholesaling channel and currently wholesales to a brick and mortar store in downtown Oakville called Homebody Studio. A small portion of the profits from Eteriese goes the organization Big Brothers and Big Sister of Halton. This small business has developed an income stream in 6 months sufficient enough to cover the projected university living expenses for next year. The name Eteriese is the Afrikaans translation for the word "Ethereal", meaning "extremely delicate, and light in a way that is too perfect for this world".
Brand: Emma's Vision Photography
Owner: Emma Pascu
Social media/contact: @emmasvision_ on Instagram or https://emmasvision.com/
Description: With my photography business, my goal is to capture moments in time to be forever cherished by all. I am extremely passionate about what I do, and always strive to deliver my best work during every shoot. Specializing in portraits and creative photography, I believe that every location has the unique potential to make a beautiful photograph. When I have a vision, I chase it until I catch it! That being said, my services include event photography and session photography of all sorts, whether that be pets, individual portraits, or large families. I am there to capture it all through the essence of my lens.
Brand: Jack Kukolic (photography)
Owner: Jack Kukolic
Social media/contact: @jack_kukolic on Instagram
Description: My name is Jack Kukolic and I run my own photography and cinematography business. I have been creating and developing my unique style for over five years now and have worked with a wide range of different clients throughout those years. From family photos to commercial videos to weddings, I have covered just about everything. My business always focuses on clients first in addition to low rates. I shoot a surprising number of student portraits sessions each year, so hit me up when you are looking to spice up your IG feed!

Brand: Ana Craftz
Owner: Ana Mayer
Social media/contact: @ana_craftz on Instagram
Description: I got interested in beaded jewelry a few years ago, and my very first creations were bead earrings. I make them from high-quality Czech and Japanese beads, hooks, tassels, gems, and Swarovski crystals that I get from Beadyi – a bead store in Oakville (check them out when you have time 😉 )
I find joy in making my earrings one-of-a-kind or learning how to make new designs which is why I challenge myself by finding designs or patterns from the internet that I am unfamiliar with and try to recreate them. Through this process, I learn new tricks and skills that I apply to my own designs and patterns.
Recently, I have really been inspired by Native American beadwork. There are so many great books, videos, and schemes available which include patterns for Native American style designs and it wasn't long before I decided to try making my own. So if there are any earring designs that you like, send them to me and I'd be happy to make them for you and add a bit of pazzazz to your outfits at an affordable price. (I already have satisfied customers, so if you want any references they're available upon request 🙂 )
Brand: The Kiwi Collection
Owner: Milly Frasca
Social Media/Contact: @thekiwicollection_ on Instagram
Description:The Kiwi Collection is a hand made, custom jewelry and accessories brand. Owned and operated by Milly Frasca, a student at St. Thomas Aquinas. She turned her love for fashion into a business overnight!
Brand: The Jewelree Shop
Owner: Ella Folino
Online Store: https://depop.com/ellafolino
Description: Handmade jewelry, made with love and wire.
Owner: Eric Folino
Social Media: @eric._.flamenco on Instagram
Contact: 905-510-7543
Description: I play classical and flamenco guitar for restaurants and dance classes. DM or call me for bookings!
Brand: Unite Canada
Owners: Sheil Patel, Dominique Kindaro, Jason Soliman
Social Media: @unitecanadaofficial on Instagram
Website: www.unitecanada.org
Description: During these difficult times, many Canadians have suffered from a lack of communication with their loved ones as a result of gathering restrictions in hopes of reducing the number of cases of COVID-19 in Canada. As high school students from the GTA who empathize with these suffering families, we decided to launch our non-for-profit organization, Unite Canada, to help facilitate the navigation of communication programs such as FaceTime, Google Hangouts, and Zoom, amongst others, through video tutorials to help those with little technological experience to better communicate with their loved ones during these stressful times. We have created tutorials on various connectivity programs and are currently expanding into social media and Google Suite tutorials. We are currently teaming up with Connected Canadians, a complementary non-profit organization, to launch our upcoming online raffle fundraiser. All proceeds go towards the Seniors Can Connect Digital Literacy Program. We have some great prizes!
Brand: Rinis Customs
Owner: Hector Rosas
Social Media: @rinis_customs on Instagram
Description: I customize and personalize sneakers by painting designs and symbols on them. I joined the business because helping people express their thoughts or feelings through a shoe, something they can wear every day shows who they are as a person.