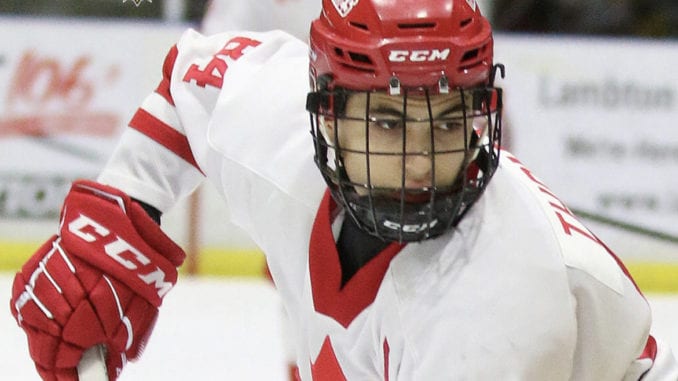 STA Grade Eleven student Patrick Thomas made a decisive leap forward in his hockey career when he signed with the Hamilton Bulldogs in May. Patrick was selected by the Bulldogs in the third round of the 2020 Ontario Hockey League Priority Selection, as the 57th pick overall.
President & General Manager of the Bulldogs, Steve Staios, described Patrick as "the offensive catalyst and leader on a Hamilton Huskies team that had a great deal of success this past season. Our fans will enjoy watching the development of another local player with tremendous potential," he added.
We interviewed Patrick to find out more about him, his commitment with the Bulldogs, and his ambitions. Here's what he had to say:

Q. The Bulldogs president and general manager had a great deal of interest in you. How does it feel to have them talk so highly of you?
A. It's really nice to have someone in such a position have that kind of belief in me, so it definitely helps me feel confident in myself knowing that he sees potential in me.
Q. After serving as co-captain with the Huskies (2019-20) what do you think was the biggest responsibility taking on that role?
A. I think just being there for anyone that might need anything and being able to set a good example for others to hopefully follow.
Q. For the readers to get to know you a little more, what would you be doing, or what are your ambitions if you weren't on the ice playing hockey?
A. I would love to do some form of using creativity whether it's painting, designing clothes, creating or producing music I think those would all be amazing, but I guess a more realistic answer would be a physician or something to do with sports medicine.
Q. What got you started in hockey?
A. My dad had me try skating at around 2 or 3 years old. My brother had been 6 at the time and was already playing. Then I started playing when I was about 4, but I don't remember a moment of actually deciding to try hockey out, I was just kind of raised with it I guess.
Q. Who was your role model in the hockey world that has inspired you to be the player you are today?
A. Ryan Nugent-Hopkins has been my biggest inspiration, mainly because I watched him since he was a teenager and I play similar to him. He was just the first person I really paid close attention to, and I ended up sticking with him.
Q. In your opinion, what are the strongest aspects a player needs to become successful in their career?
A. I think overall being smart and mentally strong for when things are going poorly so that you know how to control yourself in a way that helps you overcome anything holding you back instead of staying stuck in any problems you might be facing.
"Overcome anything holding you back"
Q. Congrats on ranking third in the league, first on the team, and signing with the Bulldogs! Do you have any last words of advice for anyone who may look up to you, or those following in similar footsteps as you?
A. Honestly, it sounds lame, but I would just say have fun and don't take it too seriously because I see all these new "child protegees" all over the internet who spend every second of their lives training for whatever it is they do and I always think that when they're older, they might look back on their childhood and wished they had spent more time with friends and family or doing other fun sports or hobbies rather than being in the gym all day. So just make sure you really love it before you commit so much time.
The STA community congratulates Patrick on his achievements, and we wish him the best of luck in his future with the Bulldogs!