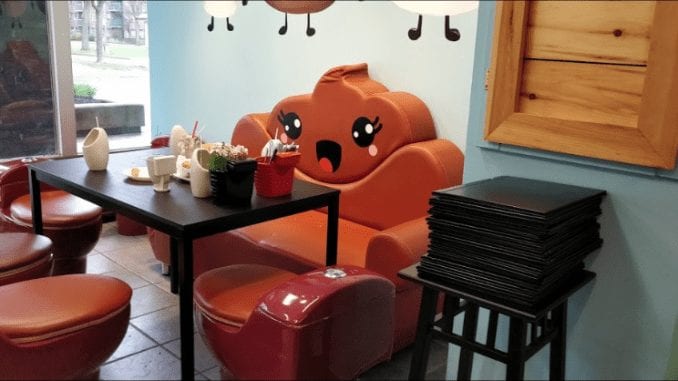 We all love chilling out with our friends after school, especially on Fridays! There are so many cute little cozy places that are less than two kilometres away from STA, and are just perfect for those after school hang outs or study sessions! Here are my top five favourite hangout spots to visit after school or on the weekends:
Poop café
Yep! You read the name correctly! This little café sells a variety of Asian inspired treats from rolled ice cream, to the famous bubble waffles you see all over your Instagram feed. They have the most unique treats that will keep everyone's sweet tooth satisfied. Not to mention the café's aesthetic is weird, but cute. True to the name, it is literally poo themed! They serve all their treats in ceramic toilet bowls, and their furniture consists of poop shaped sofas, and toilet seats as chairs! It may sound a bit odd, but when you walk in, you'll definitely enjoy the aesthetic!
2. The Sweetest Thing
This adorable bakery is actually right next door to the Poop Cafe! They sell more classic treats such as scones and sugar cookies, which you can pair with a coffee or a cappuccino! The whole atmosphere is very colorful and calm, which is perfect for those after school study sessions! Even the outside of the shop stands out with it's bright pastel turquoise colors.
3. Mad Hatter Tea Shop
This tea house calls all Alice in Wonderland fans! It's just like you've been dreaming about! When you first walk in the front door, you are greeted with a colorful floral flower archway. The colors don't stop there though… Even their utensils are rainbow colored. Of course, they sell every type of tea you can imagine, from hot teas to iced teas, even bubble teas in the summertime! Definitely for those who love to sip tea (i'm not just talking about the drink!) Come here to enjoy a nice high tea session with scones and finger sandwiches, then take some fun photos at the little photo booth at the back of the store!
4. Hippie Pops
Hippie Pops is where to go if you're in need for a quick and refreshing treat. They sell healthy, vegan, gluten, dairy, and nut free popsicles that taste absolutely delicious! When it's warm out, go and get one to enjoy in the nearby parks, or sit at their little patio just outside the store!

5. Asta Dough
Asta dough is for those who like to eat the cookie dough rather than the cookies. These guys sell 100 percent edible cookie dough, in an assortment of tasty flavours, from s'mores to maple, to triple chocolate chip. Sound good? Head on over there and treat yourself to the cookie dough you deserve!
Aaaand that wraps up my top five favorite after school hang out spots! Let me know what you think when you try them out!