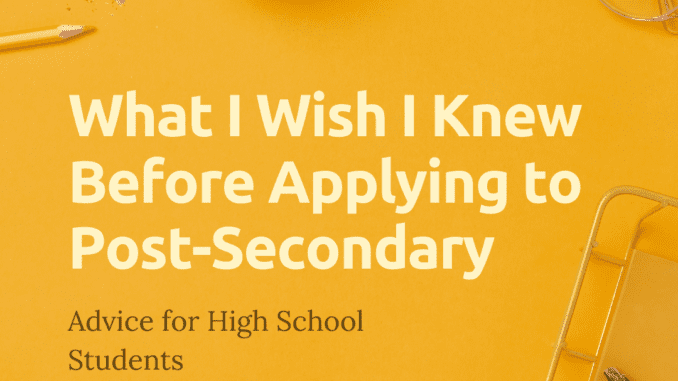 Post-Secondary Applications; three words that arise so much stress within all high school students. Though it is always spoken about, the process can feel mystifying. With that being said, I am going to share all the tips and tricks I wish I had before my post-secondary applications, and what I learned along the way.
The first and most crucial step is to determine what program suits you best. Finding a program that is a perfect mix of things you like and excel in is vital for future success and happiness. MyBlueprint allows you to take many quizzes to get a better understanding of what programs you may enjoy. From there, research more about the suggested careers. Discover your likes and dislikes of each career at hand and use this information to find the perfect program with all the components that fit you. If you would like more guidance, you can book an appointment with a guidance counselor. Though it is intimidating, it is essential to remember that if you are unhappy with your program come post-secondary, switching programs is always an option.
All programs have courses you must complete to be eligible to apply. The marks which the schools look at are from your courses in Grade 12. Course selection for Grade 11 begins around the middle of Grade 10, so if you have selected your program by then, you will know exactly what courses to incorporate into the following year. Staying on track with course selection is key to ensuring that you do not have an overloaded final year. Having a spare period or two is especially helpful in Grade 12. This is to focus on achieving the marks needed, as well as complete any other supplementary applications.
Come fall of your final year, it is time to apply to the programs you have chosen. Based on your selected route, the application process varies. For Universities in Ontario, you will apply through Ontario Universities' Application Centre (OUAC). You will receive a unique code in the mail, and log on to the site with that. The application process is directly through that site and you will be asked to rank your programs from what you are most to least interested in. All Universities that you apply to have access to this list. For other post-secondary routes, ask your guidance counselor at the school what the process is.
After applying, it is important to check your email regularly. The schools you applied to will send you emails with log-in information to access their portals and instructions for supplementary applications. Similar to scholarship applications, supplementary applications consist of short answer questions, essays, reference letters, and even live interviews. There are deadlines for the completion of all supplementary applications. This can easily get overwhelming on top of school work, extracurriculars, and part-time jobs. That is why it is important to start your applications as soon as possible so that you can chip away at them whenever you have free time.
This next step is a key step that many applicants miss out on. Applying for scholarships is an extraordinary opportunity. Lots of money can be granted through these applications, as well as awards that you can add to your resume in the future. Employers like to see that you are unique and have a lot to offer, and scholarships demonstrate that. The application process for scholarships begins in September of your final year of high school. These can be found through your school website or from the website of the University or College itself. Many of the applications consist of short answer questions, essays, and reference letters. You have nothing to lose from applying to scholarships and it is always a good idea to give it your best shot!
After doing all this, all that is left is to look out for your letters of acceptance and ensure you accept your offer on time. It is an exhilarating time, but it can also be very stressful. It is key that you keep reminding yourself that in the end everything will work out and there are multiple paths to the same destination. Keep your head up and give your post-secondary applications everything you got! Wishing you the best of luck, I know you can do it :)!