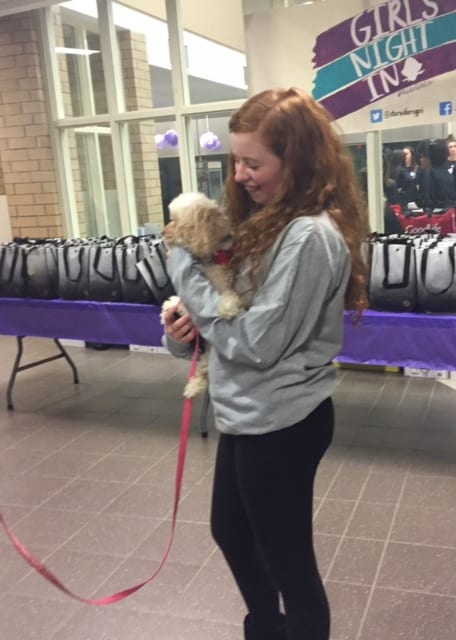 By Sierra V.
On Thursday, February 9th, STA hosted its annual Girls Night In: an event that brings girls in grades nine and ten together for an evening full of positivity and fun.
This year, the event began with sign-in, the chance to explore some of the information booths from the community, and the opportunity to enter the door prize raffles. Once everyone had arrived and was checked in, all of the guests made their way to the cafeteria to enjoy a delicious buffet style dinner. During this time, guest speaker Vanessa Vakharia (founder of The Math Guru, a boutique math and science tutoring studio) delivered an incredible presentation encouraging girls to smash the stereotypes surrounding them and excel in what they enjoy. It was the perfect mealtime entertainment and left everyone in the room very inspired.
Following the great dinner and amazing presentation, guests had the opportunity to leave the cafeteria and explore the foyer. The therapy dogs had arrived and attracted lots of attention and love. The photo booth was another great success, as well as the community information booths representing organizations such as the Reach Out Centre for Kids (ROCK).
Soon, the winners of the raffles were revealed and many people excitedly claimed their prizes which included gift cards, movie passes, cupcakes and yoga mats. While some people left empty handed, there was still more excitement in store. All of the guests then headed to the gym for a yoga session lead by Mari-Anne, an instructor from Power Yoga Canada. The session was filled with relaxation, stretching and even a few headstands. It was a great time and left all participants more rejuvenated and happy.
Once the session ended and the event came to a close, all guests received "swag bags" filled with gifts ranging from coconut water to free yoga sessions. As everyone began to head home for the night, it was evident that the event had effectively inspired many young women and overall been a great success.