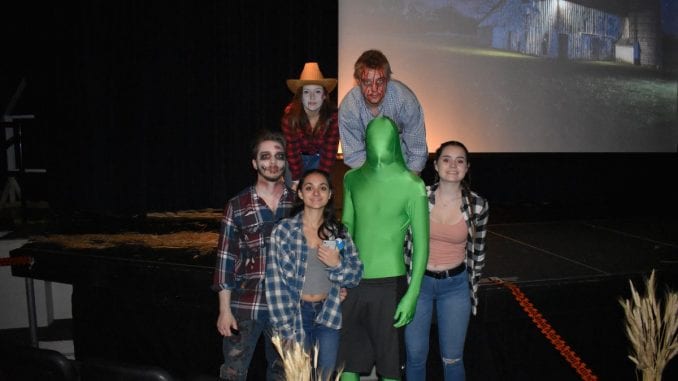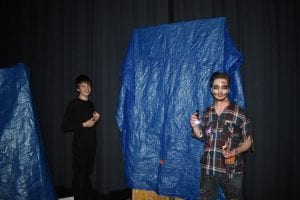 In the weeks preceding Halloween, there was a lot of buzz surrounding this year's haunted house, "Tom's Farm."  Some students rushed to buy their tickets for the themed attraction, while others argued it wouldn't be scary enough and opted out. I was curious to see what this year's Haunted House had to offer, so on Halloween I decided to stroll through the spooky estate with some friends.
It was lunchtime when we rushed down to the atrium. After waiting in a lengthy line a student volunteer led us to the entrance of the frightening farm. My friends and I were excited, but scared as screams echoed from behind the entryway. One by one we crawled through the tiny entrance. On the other side was a corn lined path leading to the eerie barn. When we reached the end of the path two terrifying, blood-covered farmers appeared, and slowly trotted towards us. Screaming, we turned off the path and entered the barn. An arm slithered out from the shadows beneath me and snatched my leg! I tried to escape from the chilling creature, but it refused to let go! With another attempt to escape the ghostly creature redeemed my leg.
We were all wary and watchful as we ventured further into the gloomy, grim barn. We stayed close together as we navigated through a maze of twist and turns. With each step came a terrifying jump-scare. Horrifying characters threatened us with their bloodstained knives and ear-piercing screams. We ran straight through the rest of the barn screaming until we reached the light which glowed in the distance. Finally, we had escaped the chilling property. Students gifted us with chocolate bars as we exited the theatre. We were all still in shock of what we had encountered!
I was extremely surprised by the quality of this year's Haunted House! It was a horrifying, thrilling, and a hair-raising experience that was definitely worth the two dollar fee. The set-up crew did a marvellous job creating the eerie atmosphere, and the actors did a fantastic job terrorizing the thrill-seeking trespassers. Overall a memorable adventure that I will be looking forward to experiencing again next year!