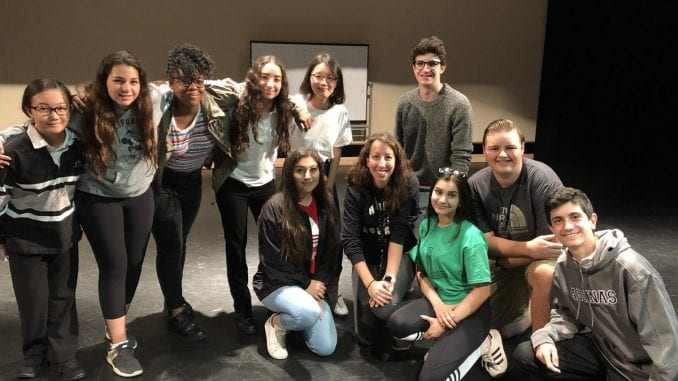 Last week the grade nines gathered in the theatre to hear speeches from enthusiastic candidates vying for the position of Grade Nine Representative. Many candidates were eager to get a seat on Student Council's Executive Team, and after the speeches concluded, two candidates were selected for the roles: Anh Bui and Chris Abdoni. This week we decided to interview Anh, to gain some more insight into her personality, and her plans as Grade Nine Rep.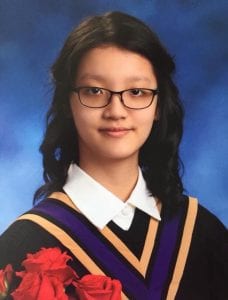 Q: Why did you choose to run for Grade 9 Rep?
A: I initially chose to run for Grade Nine Rep because I wanted to somehow be more involved in STA. Throughout my campaign, I recognized the significance of being Grade Nine Rep and realized then I wanted to really make use of my skills, to give back to the community and gather the collective voice of the Grade Nines to help truly make a difference in STA.
Q: What do you think set you apart from the other candidates?
A: I think what set me apart from the other candidates was my vision and ambition. As some people have also noted, I had a clear plan of how I wanted to better STA and outlined many improvements that I would implement if voted in as Grade Nine Rep. I was able to reach many people with my campaign, and I'm glad they were all encouraging of my ideas. Huge shout out to all the Grade Nines for being so supportive!
Q: What are some goals you have as a Grade Nine Rep?
A: As Grade Nine Rep, my main goal is to make everyone's lives easier. This includes reaching my other targets of raising school spirit, adding a Grade Nine Information Board to STA, and creating a suggestion box. I'll also be looking forward to helping run Student Council events with the other Execs.
Q: What do you want the school to know about Grade 9s?
A: We may be new, but we're fast learners. You can count on us to be just as reliable and hardworking as any other grade!
Q: If you could only use three words to describe yourself, what would they be?
A: Creative, dependable, and hardworking.
Q: What are you looking forward to this school year?
A: I'm really looking forward to all the fun events I'll be planning and organizing alongside Student Council this year. Look out STA!
Q: Where is your favourite place in the school?
A: Words cannot describe how much I absolutely adore those three flights of stairs I climb up every day on my way to my locker.
Q: What are some of your hobbies?
A: My hobbies are sketching, painting, and playing the piano.
Q: Would you rather lose the ability to read or lose the ability to speak?
A: The ability to read because I could probably learn to rely on e-books faster than I'll be able to learn ASL. Though, I still consider both skills to be practically essential survival skills and would not be down to lose either.
Q: Do you have a secret talent or interesting skill?
A: I've got a pretty decent knack for painting and playing the piano.
Q: What is your favourite T.V. show?
A: I'm stuck between "The Office" and "Spongebob" for this question. Whichever one has the most memes honestly.
Q: Briefly, describe your perfect day.
A: Nothing feels as perfect as spending 90% of the day being productive and 10% getting a healthy amount of sleep.
Q: How are you adjusting to high school?
A: It's been great! High school is a totally different environment from Grade Eight, but I think that's what makes it so exciting to explore for me.
Q: Are you in pre-I.B?
A: I've been accepted into pre-I.B for Grade 10, but this year, I'm in Academic.
Q: What kind of music do you like? Do you have a favourite singer?
A: I'm down for any and all genres of music. My current playlist is literally only made up of songs my friends have recommended to me.
Q: What is your favourite movie?
A: Back to the Future will always have a home in my heart!
Q: Do you know what you want to be when you're older?
A: I don't know yet, and that's why I plan on getting more involved in school- to explore my interests and find my passion.
Q: What are your favourite subjects?
A: I actually like all my classes this semester, but if I had to choose, English is my absolute favourite.
Q: Did you have many friends come with you to STA?
A: I knew the names of a grand total of six people before coming to STA.
Q: Lots of people have been talking about your campaign posters, did you design those yourself?
A: I was surprised that even students in other grades were asking me about that too! Yes, I designed them myself. Phil Swift and Endgame were the first memes that popped up in my mind. In this household, we stan true legends.
Q: Is there anything else you would like to mention?
A: It was my pleasure to answer these questions and I'll be looking forward to working closely with the STA community, Grade 9s and Student Council, in particular, to better our school. Thank you!
Congratulations to Anh and all the other candidates. We wish Anh lot's of luck in her next four years at STA, and hope she achieves great things for our school!