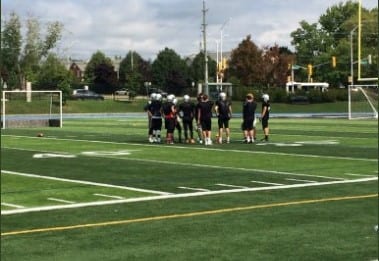 This year, the STA Raiders Senior Football Team has been working extremely hard to ensure a great season no matter the outcome. The team began their season early with summer practices, where the boys began giving their all to the team. They continue to do so through late-night practices, lengthy chalk talks, parking lot practices and ensuring team morale stays high. Several factors have gone in to make sure the team puts forth their best efforts.
The coaching staff has become a strong unit especially since several new coaches have joined. The help of volunteers and returning students has allowed the team to further break down positional training, which they weren't able to accomplish in previous years. As it is still early the team remains unsure of how their season will turn out, but according to Mr Hickey, "Oliver Beckett has another year as the quarterback and he can help out the offence."
Win or lose, the boys on the team will leave with more than just memories of football, but life lessons for the future. What distinguishes STA football from other school teams is "a well-rounded approach. Football isn't the end all or be all. We're [the coaches] hoping to use it as a vehicle to make them better young men and give them skills they can use in the future,' says Mr Hickey.
The players had plenty of advice to share with anyone interested in playing football or any other sports. Junior football coach Stanley Wang says they look for players with "devotion". He says players should "be there because [they] want to be there."  Other experienced players gave some great advice.  Marcus encourages players to "have confidence and don't be afraid to stand out!" Ethan Del Rizzo commented: "Don't feel nervous to come out and make the most of the present."
Players leaving STA this year are going to miss a lot about the sport, like game day traditions such as "pasta dinners, going to the chapel and the spirit wear," according to Marcus Nandal, will all be missed.
To get to know the players more, they answered some questions about the team:
Do you have any pre-game rituals?
"I just listen to music to get hyped."
– Noah Brown
Who is most likely to mess around during practice and interrupt the coach?
Marcus Nandal
Who is most likely to forget their equipment?
Allen Shllaku
Who is most likely to ask for a water break?
Bailey Price
Who is most likely to not show up to practice?
Zac Marasovic, Josh Leitao
Who is most likely to score a touchdown?
Ethan Del Rizzo and Tyson Bartlett.
Several great games are coming up that Raider Nation should make sure to be at and come and support their fellow students. The game to be at this year is the Joe Luciani Memorial game held at STA on October 12, 2018, at 1:30 p.m. Last year the game was held at Notre Dame and proved to be a night to remember. The funds from the game went to a scholarship for a Notre Dame student, and this year an STA player has the honour of receiving the scholarship.
To all those who may be deterred from going to the game for a lack of football knowledge,  maybe this can help you out. Even if you still don't know enough about football, it's a great time with great people for a great cause.
We are all wishing the Senior Boys Football Team, the best of luck this year as they take on new challenges!