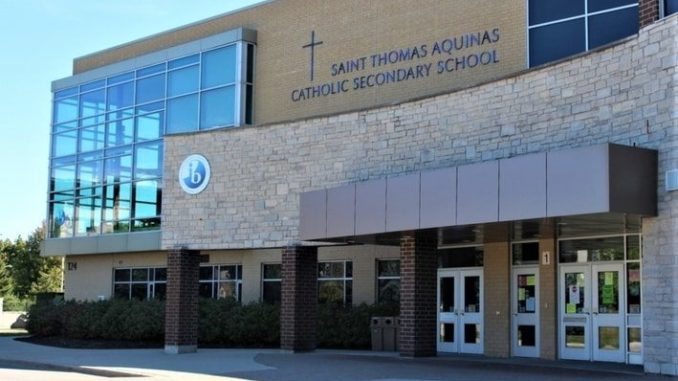 by Kayla Vasquez
As a grade 11 IB student myself, I know first-hand about adjusting to the programme and my experience as a new student. I also know how beneficial it is to have past students, teachers, and peers within the programme make time to talk to you and share their own experiences!
I've worked with some of my fellow IB students and staff to bring this article to you, outlining some tips and advice relating to the programme. I've also included our names and grades, as well as my contact information for any extra questions if you'd like to reach out!
My Advice:
Know that no matter where you end up, IB will help you with something. Personally, I'm not even sure about what my post-secondary plans are, but I've grown a lot in communication, time-management, prioritizing tasks, managing stress, and above all, having a positive mindset all through my work in IB.
Never worry about feeling alone or lost. IB is not a competition, and your peers are there for you! Even in grade 9 when I was struggling, my math teacher found me a tutor who helped me for 2 years. Also know that your IB office and guidance staff are always available to clarify any questions and support you!
Make the decision for yourself. There have been people who "overhype" IB or have something negative to say about it, but whatever decision you make, make sure that it's yours. Know the benefits and the real growth that comes with trying the programme. No one's words, not even mine, will matter if you already know what you want, but if you want to push yourself, if you want to work hard and get rewarded for it, give IB a try.
Tomi's Advice: Tomi Ayeni, Grade 12
One tip I would suggest for grade nines who are looking to do IB is to get in the habit of asking your teachers questions for further clarification.
It might seem slightly daunting at first, but remember that your teachers are your support system throughout IB. They are there to help you and feeling comfortable approaching them before starting IB will only improve your adjustment. It will also leave a good impression on your teachers that you are looking to seek their help.
Giuliana's Advice: Giuliana Zambito, Grade 11
Get an agenda – By the time you hit grade 11, your organizational skills and time management will be more important than ever. Over the course of the diploma programme you'll start having more responsibilities, and having an organizer to keep your life in order will help you navigate them in multitudinous ways. It's helped me thus far and will continue to do so over the next year and a half or so.
Use your summers to stay ahead – You would be surprised how much Math or French you can forget over the course of two months. I would slowly work away at the next year's math textbook chapters over each summer with a friend. It helped us stay sharp for September and increased our grades altogether! A great strategy in my opinion.
It can be hard to commit to regularly practicing your courses, but the best thing you can do is keep your notes from past classes. From personal experience, old notes proved to be an extremely useful resource as I navigated through both Pre-IB and now, the IB Programme.
Study Strategies – The first thing you need to do when you get to high school is figuring out how to study best, how you learn best, and how you retain it all best. If you are a visual learner, try incorporating more diagrams in notes or create mind maps of coursework units before big tests. If you're more on the auditory learner side of the spectrum, try saying definitions out loud and talk yourself through a concept when prepping for an exam. Aside from those, my favourite methods are 1) Active Recall and 2) teaching it to someone else.
Bianca's Advice: Bianca Bansa, Grade 12
As a Grade 12 IB student, I have experienced many of the ups, downs, and challenges of this programme. As I am nearing the end of my time in the programme, I thought I should pass down some of my knowledge and tips to the new IB students. Hopefully, my pieces of advice will be helpful and make the IB experience a little bit better!
My first piece of advice is to get involved in the school. I would aim to do about one club and one sport. This gives you a break from academics and a balance to your life, and it is a great way to meet people outside of the IB Programme. Additionally, it sets you up perfectly for CAS (your community service and activities requirement in grades 11 and 12) when you get into the full IB Programme!
Secondly, I suggest experimenting with study habits. Depending on the subject, you may need to change your study habits (ex. re-reading handouts versus doing practice tests/questions). Grade 9 and 10 are the best times to try out new study methods. Find what works for you and perfect it! There is a lot of studying and curriculum that gets covered in the full IB years, and effective study habits will be such a great help to you.
Although this may seem like common sense, it is a good idea to do your homework. And I mean all of it. Even if it is a lot and you don't think you can get it done, just try your best to do it. Homework reinforces knowledge in class and it is a great way to identify what you still need to review or need more clarification on.
That leads into my next piece of advice, don't be afraid to ask your teacher for help! I know it can be embarrassing to ask your teacher for help during class, but if you ever need any clarification/help on anything, the best thing you can do is ask your teacher. There were so many times when I was afraid and nervous to ask for help, and looking back, I could have really used the help to do better. We live in a technological era, and you can use it to your advantage! You can email your teachers for help or clarification, or set up meeting times so you don't need to ask during class! We really are so fortunate here at STA. Your teachers really care about you and want to see you succeed. There is no judgement in seeking assistance, and it's encouraged!
Finally, remember that everything will work out in the end and learn to grow from any stress or frustration throughout your IB journey. The most important thing is that you are not alone in it. Talk to your peers, you are all going through it together, and make a support system out of it!
Believe in yourself, you can do it!
Frankie's Advice: Frankie, Grade 11
IB helps develop our depth in knowledge by looking at why we know what we know, gives us the resources to excel in our academic studies and future pathways, as well as helps us thrive academically, mentally, and physically.
It has taught me a lot about what it means to be collaborative, thoughtful, and a steward of our Earth. Throughout these past years, I have learned many new skills that helped me extend my knowledge outside of the classroom.
For future IB students, I would suggest working hard, staying focused, using your teachers as a resource, and most importantly making time for yourself!
Anh's Advice: Anh Bui, Grade 11
Looking back on my IB experience, there are a few tips I would have liked to give myself.
"Stay calm and carry on, Anh."
Know that "bumps you encounter on the road" in this programme are only a minuscule piece of the whole puzzle, and that they serve as opportunities for success! There's always another chance, another opportunity, another path to improving yourself so that you do get the results you want in the future 🙂
(Don't forget to get a good amount of sleep as well!)
For any extra questions or information, feel free to email me at kayla.vasquez.001@my.aquinas.me!