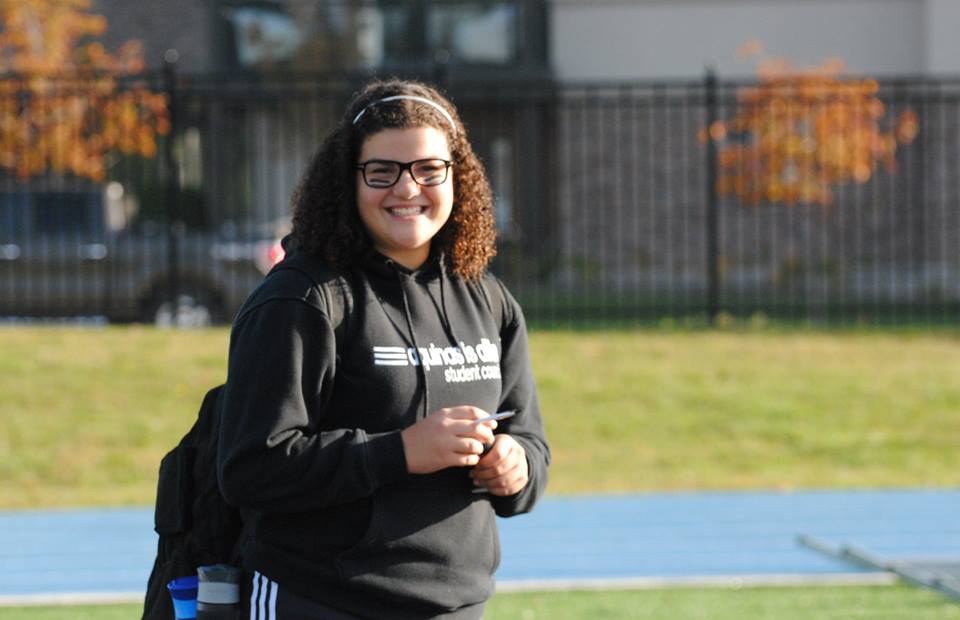 By: S. Pilon
These are the words that Jazmine Frias lives her life by. As a self-proclaimed hippie, she has dedicated her life to raising awareness about global warming and other environmental issues. Even going as far as to change her lifestyle to that of a vegan, she has made multiple actions to improve the world.
As the head of the Eco Club, the Vice president of the Best Buddies, the Cove Coordinator, and a rugby team member, this busy little bee has stuck her nose into almost every facet of the school possible. STA's own little hippie has big plans ahead of her. Her plans for the future include attending Lakehead University for her undergraduate degree in environmental studies, then proceeding on to law school to become an environmental lawyer. Her interests in environmental studies stem from the fourth grade, when she was researching a speech on global warming and she took out a children's book that laid out her future passions for her. Since that time, she has written four speeches bringing awareness to issues such as climate change.
She jokingly commented that she wanted to "destroy the Kyle Bernett-Riddle's of the world," meaning that she wants to take on those who are in support of the oil tycoons of today. A bizarre fact about Jazmine's home life is that, despite all of her green efforts and passions within the school, she does not own a green bin. Not by her choice of course, her mother refuses to buy one.
She is most proud of the fact that she is outspoken; if you get into a debate with her, will you know she is not afraid to speak her mind. Ask her anything about the lack of enthusiasm for recycling in our school and she will talk your ear off. Though she loves her duties as head representative of the Environmental Awareness and Sustainability Club, she says that there can be struggles with the cooperation between members but she handles it all with grace. Her many responsibilities can be a handful, sometimes overwhelming her in combination with schoolwork, she cracks under the pressures. Jazmine's tip for handling stress? Don't take on too many things at once. Though, she rarely takes her own advice. She often spreads herself too thin, trying to accomplish all of her goals at once.
It's not hard to become Jazmine's friend, she is pretty accepting of people from all walks of life. Her favourite books are I Have the Right to be a Child and Clockwork Angel. I asked Jazmine what she wanted me to post about her in this article and she wanted the world to know that she does not have a problem with twitter; it can be used very easily to spread positive ideas, which she is in support of, but she does have a problem with the harassment of others online through twitter. She is truly an individual who lives by a high standard.