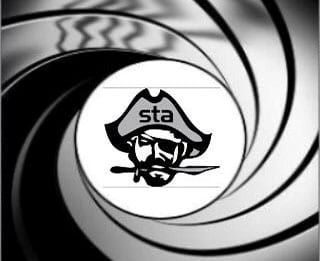 By Elizabeth Kidd
The administration of St. Thomas Aquinas does not support or condone the playing of this game, and at no time are students allowed to play on school property.
112 students, two winners and two major cash prizes. The much anticipated game of "Assassins" at Saint Thomas Aquinas C.S.S., is finally coming to a close, and everyone is waiting to see who the winners will be.
The concept of this popular game among high school seniors in the GTA is quite simple.  The objective of the game is that participants are given a target by the game maker-the person who volunteers to organize the game- and a deadline in which they have to eliminate their target by shooting them with a nerf gun, failure to eliminate your target by the deadline results in their own elimination. All while planning out how to eliminate their targets, participants must also keep an eye out for their assassin who is trying to eliminate them. Although rules and restrictions vary by school as rules are often left up to the game maker to create.
After eliminating ones target, it was required to get video proof and send it in to the game maker. If it counts, the player would receive confirmation and then later on it would be posted to the STA Assassins Twitter page for other players to see.
In order to play, participants must pay five dollars each. The last two players standing split the money according to who has eliminated the most players, that person getting a higher amount from the cash collected.
When the game began in early April, it quickly gained a lot of attention from other schools, who where also playing the game, as well as concerned parents and the authorities. Halton police cautioned players and parents after a public disturbance incident, in which teens in ski masks, drove around pointing water guns at teens as they walked home from school. Police were quickly contacted, only to discover the group was made of just teenage girls playing Assassins.  Halton Police Public Relations Officer Sgt. Chantal Corner said the youths were warned about the potential dangers of the activity and released. (Inside Halton)
In terms of the game at STA, approximately 20 people were eliminated by their assassins in the first two weeks. Many participants considered this to be a very slow start, and claimed to be a result of restrictions such as a 1 km safe zone around school property and other rules concerning safe zones. Now with only 7 players left, STA's senior class is greatly anticipating whom will be the last two standing.
Lea, David. Police Warn Oakville Teens and Parents about 'assassins Game' Inside Halton. Inside Halton, 08 Apr. 2016. Web. 30 May 2016.