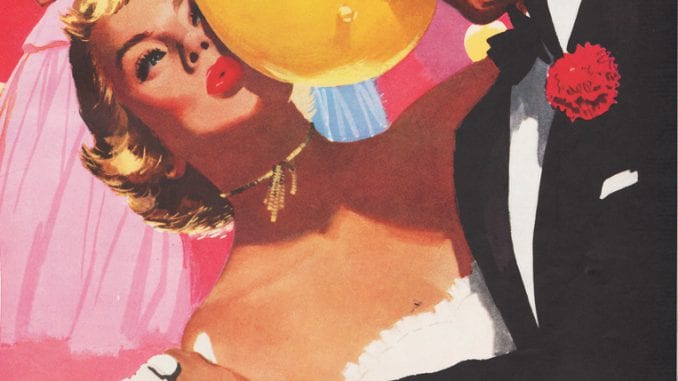 By Julia Modestino and Kari Edwards
Opinions on prom range from it being the best night of our lives to a major disappointment. One thing is clear – it never seems to reach those magical, movie expectations we all have. It's tagged with an insane bill, and your very own bundle of social anxiety. We could, of course, turn our backs, sigh and say, "That sounds like a YOU problem." However, fellow education chasers, that's not who we are.
Let's not forget that prom—what with all its flaws and rough edges—is a once in a lifetime experience that could very well be the greatest night of your life. In short, we thank you for clicking on this article. It will save you from what the ancient scrolls call, prom jitters. Welcome to your very own STA Prom Survival Guide!
Prom Prep for Girls (or guys if you're up for it):
Alright, relax. This isn't going to be that stressful. Take a second to yourself before you go absolutely ballistic because, ladies, with a calm mindset this can be a blast. In this section, we'll let you in on some of the secrets for a fun preparation experience.
The Dress:
When looking for a dress it is important to truly know yourself. The perfect dress will bring out your personality, and really reflect what you're looking to represent on your very own prom night. Now that we've told you this, don't flip out! Choose your dress first, the rest of the pieces will fall in place, and you'll be stylin' in no time.
Shoes:
Shoes are jewellery for your feet. As girls, we are all crazy-lovers of heels. They not only make us look taller, but also fierce and confident. This topic doesn't really need any more emphasis as we are all experts. Just make sure they match your overall contrast and most importantly, make you feel comfortable.
Accessories:
We could go on and on about accessories. However, the supplementary component that is of highest importance is the necklace. With a suitable necklace, your look will instantly become more elegant. This addition to your attire has a classic appeal that will make you feel like a queen.
Makeup:
Afraid of cakey concealer and Kylie Challenge Lips? Well, me too.
Makeup is probably the most fundamental part of your appearance. It can be done in so many different ways, and with the variety of new trends born every day, anything can be pretty much considered "trendy." It the end, it all comes down to you, your dress, and character. As a personal suggestion, the makeup should be based on your attire—in simpler words, match your outfit. Your personality will also have something to do with it. But just know girls, or guys, be yourself.
So, there you have it: Our best advice in just a few paragraphs! Are you relaxed yet?
Prom Prep for Guys (or girls if you're into that!):
Fellas, don't worry one bit. We have a subtitle for you, too. Prepare to embark on a journey like no other.
Quick Tip: Are you worried about matching with your date? Don't take another brooding step, because oh boy do we have a secret for you: communication is key. That's right. Communication. We know in this day and age this isn't quite our forte, but in order to have a successful prom night, things as simple as this cannot be an issue. Just how embarrassing would it be if you were decked out in magenta while your girl was rocking a fluorescent yellow? Boys, you have to keep it together.
Trusty Tuxedos:
Above anything, the differences between a tux and a suit must be established. Suits are generally preferred because they're already waiting for us somewhere in Pop's closet, while tuxedos are the more traditional option. They consist of satin lapels, buttons, pocket trims, and a satin side stripe down the leg of the trousers.
With that said, you may be asking yourself, "How do I properly wear a tuxedo?" Gentlemen, we all know that if Prince Charming is embarrassing her Cinderella, the whole ball will be a mess. Tuxedos are essential to make her and your appearance ideal. 
Of course, this is also your night. So, while keeping your date in mind, remember that it is also about YOU. Boys gotta look pretty too, right?
Here are some tips on the 'black tie' dress code:
Choose between classic, modern, or slim style.

Avoid rental tuxedos at all costs! Renting a tuxedo is probably the most popular and best financial way of going to your special night, but we suggest to better avoid it.

Make sure the Tuxedo does

not

have a notch lapel

—

pick lapels and shawls instead.

A pocket square. Period. Or besom pockets.

Suspenders should be worn at all costs. Pretty sure you don't want your pants falling off in the middle of the dance floor, right?

Do

not

wear a belt

—

it is very informal.

If wearing a single-breasted

jacket, a cummerbund, waistcoat or vest should be worn. Make sure they also have only one button.

This one is an obvious one, but make sure your pants match your jacket, guys… they don't necessarily have to be the same colour, but make sure they are both in the same colour contrast range.

Tip: midnight blue tuxedos have lately been used more often once again. After Daniel Craig in Skyfall, who doesn't want to look so badass?
Some tuxedo colours for consideration are: black, grey, midnight blue, tan, silver, brown, white, or ivory.
Necktie:
Neckties, the most popular option for guys, yet not the most traditional attire of all. The necktie should be worn with a suit, never with a tuxedo. If you decided to wear a suit instead of a tuxedo, then, by all means, go ahead. Neckties could either match the colour of your suit, your partner's suit, or if you're one of the attention-loving types can appeal to your flamboyance with a bright colour.
Bow Tie:
Ah, the classic bow tie. The perfect preservative of the white "V" of your tuxedo, drawing attention to your facial features. Your bow tie should be self-tied, not pre-tied. Remember, formality is key.
Shoes:
Belgian shoes and Prince Albert slippers are good options to go along with. If you're planning on wearing other shoes closer to calfskin, make sure they are well polished and clean. In terms of colour, the range is small. Typically all black is worn, but white, dark brown, and light brown can also accompany your style.
For more ideas on dressing and attire, visit:
www.mytuxedocatalog.com or www.thefineyounggentleman.com