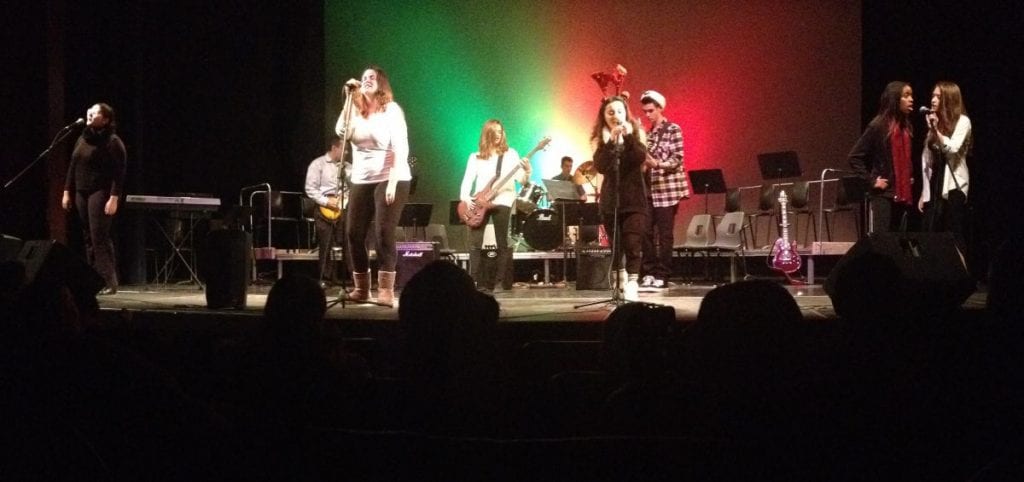 By Gabbie C
On Tuesday night, many people came to the school to rock out to their favourite Christmas jams, at STA's 'Rock The Halls' event. It was a fun hour of music and singing, and I had the honour to watch some of the most talented students share their gifts.
There were many memorable moments in the show that got everyone dancing, singing, and even laughing. Ms. Duban's drama class performed two choral speeches, expressing some relatable and hilarious Christmas stories. It was a very lively performance with jokes that made the whole crowd laugh.
Speaking of laughing, the two MC's did a fantastic job at hosting the show, giving the crowd the wonderful gift of Christmas-themed puns. Both of them made the show an entertaining experience for the audience.
However, the MC's didn't only make puns about how Christmas trees and apples making pine-apples — they all played wonderful Christmas songs alongside the greatest bands at STA. They got the whole crowd singing to their favourite holiday carols, such as "All Alone on Christmas", "Drummer Boy" an electrifying performance of "Run, Run Rudolph", and "Baby Come Home For Christmas". STA's very own concert band also performed with a perfect instrumental version of "Rudolph The Red-Nose Reindeer".
At the end of the show, the Rock Band came back for two encore songs that had the whole crowd cheering and singing. A special shoutout to Mr. Taraschi, who played the guitar for the Rock Band several times and tolerated the bagel jokes from the crowd.
Though it ended an hour earlier than expected, I think it ended an hour too soon. It was a night that everyone was going to remember, and got everyone in the festive spirit. Make sure to catch the rock band's next concert — you won't regret it!