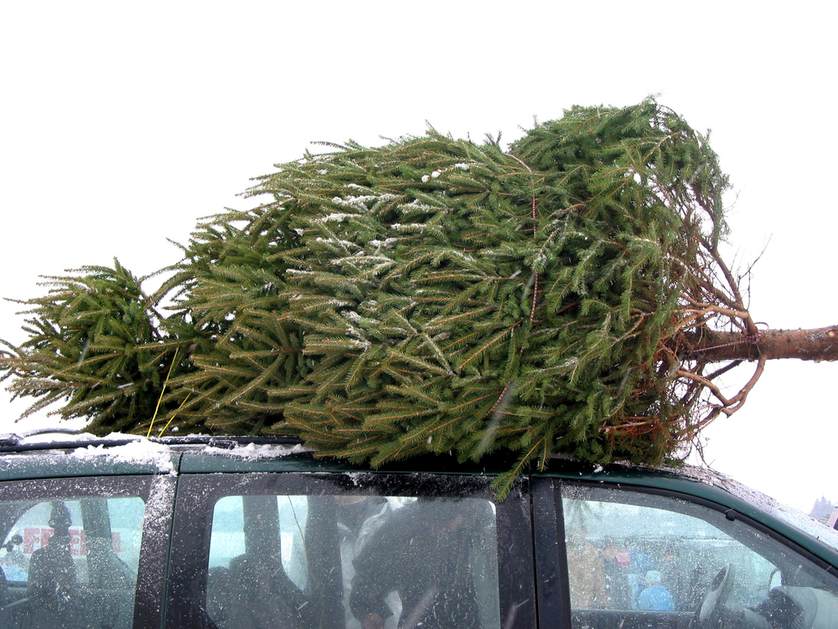 By Libby S.
My family always always gets our Christmas tree at this little church that sells them for 50-75 dollars and this year we got it later than usual.
We were all ready to go buy it at around 3:30pm and were all excited to do so. My brother and I had waited excitedly until our older sister got home from University so we could get the tree.
It was freezing cold and we bundled up against the cold, climbing into the car and driving to our usual place. When we got there it took us a bit longer to find the tree than it usually does, around 15 minutes or so. Once we had all agree on the perfect tree, it was tied to the roof of our car with a string that would later prove to be unreliable.
Off we went. Our mom had told us that the string wasn't very good and she was worried about it slipping off the car, so my sister and I watched it like hawks to make sure it didn't fall.
We had a few false alarms, but then my sister made the fatal mistake of saying "If we keep a steady pace, it won't fall off." Of course, a few seconds after she said that, the string broke and our beloved Christmas tree fell onto the road.  
My mom immediately stopped the car and checked to make sure our tree was alright. As she dragged it back to our car, we realized that we had no way of getting it home now. You see, my mom has a tiny Prius and there were already four of us (counting my mom) , there was no way the tree would fit in the trunk and still have all of us fit in it too.
So we called a few friends. My brother's friend's parents couldn't come and my sister's friend was going to Toronto so couldn't come help us either. However, my sister's friend's grandfather could come with some string and retie our tree.
As we waited in our car because of the cold, a car pulled up behind us with it's blinkers on. At first we thought it was Opa coming to save us, but then a man we had never met before started to walk towards our car. My mom got out and talked to him for a bit before opening the driver door and talking to us. She told my sister to call Opa and thank him for his help, but a nice man had offered to drive our tree home for us.
Apparently his wife had seen us with our tree propped us against the car, and called him, telling him to help us. He came by with his truck and put the tree in the trunk. He brought our tree all the way to our house, following us home.
When we got there, we offered him some of the Christmas cookies that we had baked earlier that day for his kindness, but he politely refused, saying that it was his wife who told him to do it. Laughing my mom asked if he would bring some home to her, but again he refused. Before he left, my mom asked if he knew his home, and after saying he did, he left.
He was a truly kind soul and may have just saved our Christmas.