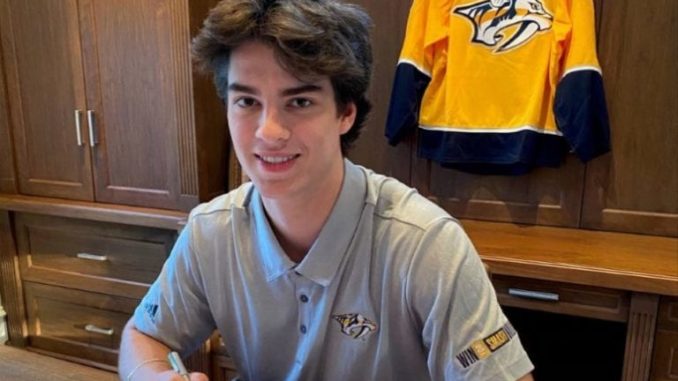 By Emma Pascu and Ethan Carley
Monday November 9th was a remarkable day for STA alumnus Luke Evangelista who signed with the Nashville Predators. After being a top fifty NHL draft prospect, Evangelista, 18 years old, was selected in the second-round draft earlier this year. He signed a three-year contract, and will hit the ice in 2021, when the NHL begins its next season. As he put it: "I couldn't think of a better job in the world."
Evangelista previously played for the London Knights in the Ontario Hockey League as a right-winger. In over 62 games played last season, Evangelista scored 23 goals, and accumulated 61 points, including six game- winning goals.
As a rookie player, Evangelista says that he doesn't feel too much pressure joining a new team: "In my rookie year, I just want to learn as much as I can and focus more on development rather than production," he explains.
As expected, there was a buzz in Luke's family following the big news: "They were all really happy for me. I've had great support from them my whole life and for all the hard work and long hours to finally result in me getting drafted was a great moment, not only for me, but for everyone that has supported me," he recalls.
At some point, Luke will be making the big move to Nashville. He is looking forward to something new, and is approaching it with optimism: "I've never been, but I hear it's an awesome atmosphere with lots of music, which I'm really excited about."
When we asked what team Luke is looking forward to playing against the most, he said it would "definitely," be the Leafs: "I grew up a Leafs fan my whole life and dreamt of playing at Scotiabank Arena. It'll be really cool to play against them," he tells us.
Evangelista says he has been "working out and training on the ice," nearly every day in order to stay sharp during the pandemic. "This extended offseason has given me plenty of time to get bigger and stronger and work on parts of my game that needed improvement," he explains.
When we asked if he has thought of eventually using his position to give back to the community, Luke said he has thought about it. "I grew up playing hockey, so I definitely want to give back to the hockey community here," he says. "Also, my billet brother in London has muscular dystrophy, so I'd definitely like to someday do something for that cause," he adds.
The STA community will be cheering Luke on throughout his entire career in the NHL. We wish him the best of luck when he hits the ice in 2021!