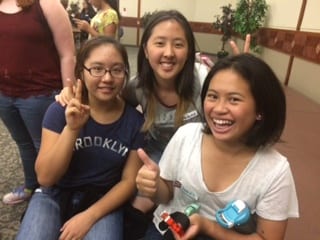 By Gabbie C
Let's be honest, high school can be tough — especially if you are an IB student. Sure, the IB program is a great experience, but with it comes a lot of time-management and responsibility. Despite the fact that I am only in the pre-IB program, I am already up to my neck with homework, assignments, and multiple tests.
So when Ms. Rerecich, the chaplaincy leader at STA, came into my first period classroom one morning, I was a bit concerned about what she had to say.
There was a day where the grade 9s would take a day off school to go on a grade nine retreat. She said it would be a fun day of doing many activities, hanging out with friends, and making new ones. Along with the activities, lessons of how each individual is a part of God's grand vision of the world are infused into fun games and discussions.
Naturally, I — a first class worry-wart— was not looking forward to missing a day of school. Yeah, I would love to have a day off from working until my brain melts, but I also did not like the idea of doubling all that work for the next day and catching up with things I have missed.
However, on the Monday before the our retreat, I found myself staring at my endless amounts math sheets and finally thought, "hey, I deserve a break." The idea of the retreat was slowly warming up to me.
Tuesday finally came along, and we were happily on the bus on the way to our retreat location. I decided to save my 'responsibility-realization crisis' for later — it was time to have some fun with some friends.
And I definitely did! Each activity was wonderfully infused with a lesson about how to be a leader, the values of teamwork, and how each everyone plays a special part in fulfilling the vision that God has for the world. Not everyone had the same religion or the same beliefs, but Ms. R did a great job in making sure everyone felt welcomed and valued.
As a group of young individuals diving head-first into the depths of high school, it is really important to make sure that while you are learning, you are also having fun — after all, high school is supposed to be the best years of your life. The grade 9 retreat made me realize that even if us grade 9's are on the bottom of the food chain, we can still step up and be the leaders we were made to be.
Even if I have to go back to learning about linear relations and about the many different kinds of nouns, I am glad that I still have all the good memories and life-lessons from the retreat. It was a super cool experience, and if you are a grade 9 who has yet to go, I hope you decide to take a "cheat day" from all the academic worries of being in high school — you worked hard for the last month, so you definitely deserve a break. It is a great opportunity to be able to make new friends and memories, and find that you have so many gifts you can use to make the world a better place.
(And if that didn't sell it, there is free pizza, so maybe that will get your excitement running.)