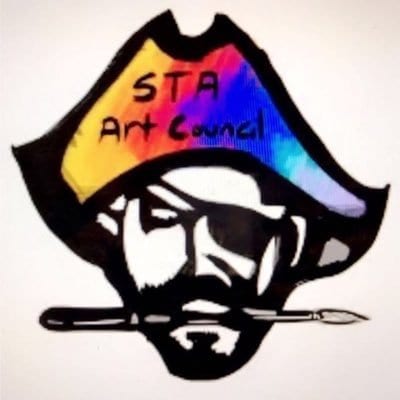 By Sierra V
Last fall, Emily Vaillancourt initiated a new council at STA with the intent to revive the arts in our school. It consists of ten executive members and the general council. I met up with Emily, the president and founder of the council to gain insight into this new group.
When I asked Emily to give me a general description about the council she said, "The purpose of the council is to provide a place for all of the arts to come together and discuss ways to promote the arts at STA. Our goal is to recognize the talents and dedication of the students involved in the arts and give them a place to share their voice." She made it very clear that the council accepts everyone, saying, "arts council is open to everyone and there is no such thing as not good enough." Emily aims to make the art council a place where everyone feels comfortable and is able to share their ideas.
Council meetings are "very discussion based so everyone is free to chime in whenever they have something to say." Each meeting (which takes place every Thursday morning at 7:50 in the theatre) has an agenda, as well as time at the end of the meeting to discuss any topics not already addressed.
There are approximately fifteen people currently involved in the arts council, but more are always free to join. As Emily says, "Together, we can accomplish great things! If you have a passion for the arts, we look forward to seeing you at our meetings."
Stop by the theatre on Thursday to be in the room where it happens!